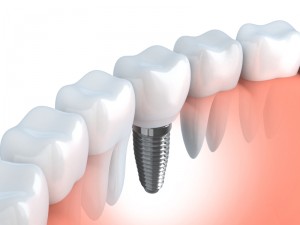 Dental implant dentistry by Handsman and Haddad Periodontics in Worcester gives patients a great alternative to traditional dentures. Stable, secure and bone-sparing, implant-supported dentures confer great fit, function and aesthetics.
What are dental implants?
Dental implants are completely artificial teeth. Comprised of a titanium screw device surgically placed into the jawbone, the dental implant holds a metal extension post and realistic porcelain crown. Implant experts, such as Dr. David Handsman, Dr. Abraham Haddad, and Dr. Todd Jenny highly recommend implants to patients who need tooth replacement and who:
Are in good oral and general health
Are missing one or more teeth
Have sufficient jaw bone density to support a dental implant
Fortunately, even patients who have limited jaw bone density can receive bone augmentation procedures, called socket preservation, in which donor bone or other materials build-up the receded bone around the empty tooth socket. Also, Drs. Handsman and Haddad perform sinus lift surgery to increase the space available in the upper arch so the dentist can place an implant device.
Fortunately, the team Handsman and Haddad Periodontics is fully-equipped to evaluate patients for Worcester dental implants. Using digital r-rays, astute oral examination and sophisticated iCat Cone beam scanning, the doctors know if implants are a viable choice, and the 3-dimensional imaging shows them exactly where to place the devices.
The benefits of dental implant dentistry in Worcester
Dental implants successfully replace one tooth or multiple teeth in a row. They also support partial or full dentures that are either fixed or removable.
The secret to the success of dental implants is a natural process called osseointegration. The Academy of Osseointegration says that the patient's bone possesses an amazing affinity for titanium, and as such, melds right to the implant device. As the site heals, the bone strengthens, and after placement of the post and crown (or other prosthetic), chewing and biting further exercise the bone. Patients with implants or implant-supported dentures have youthful-looking faces and less skin sag and wrinkling.
Implants are successful
Research shows dental implants succeed in most cases–up to 98 percent, in fact. And, these prosthetics last for years so that the individual may never need to replace them. On the flip side, traditional dentures and bridgework have a lifespan of only 7 to 10 years. That means more money spent on new prosthetics.
Regarding implant retention, poor oral hygiene and smoking contribute to a detrimental condition known as peri-implantitis.  It's very similar to gum disease. However, smoking cessation and good at-home care and in-office exams and cleanings keep Worcester dental implants strong and viable.
Is is time for a change?
Why wear partials with metal clasps or full dentures that slip and embarrass you?  You could replace your traditional tooth prosthetics with state of the art dental implants. Contact the offices of Handsman and Haddad Periodontics for an expert evaluation of your oral health and present tooth replacements. Take the opportunity to improve your day to day oral function and self-image, too.