Advanced Dental Technology
in Worcester, MA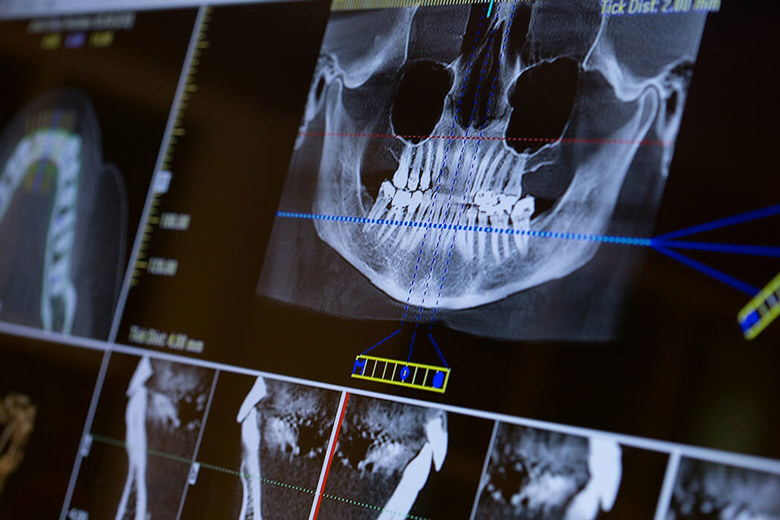 There are several things that can set one practice apart from another practice. One of those things is the experience-level of the doctors and other team members. Another is the technology the office is equipped with.
At Handsman & Haddad Periodontics, P.C., you'll not only find a supremely experienced team waiting to serve you, you'll also find that we've invested in many of the most advanced tools to provide you with the best service possible.
Cone Beam Imaging
Cone beam imaging is an advanced form of digital radiography that provides our Worcester team with a three-dimensional view of your teeth, roots, and bone structure. Scans with our imaging unit only take seconds to complete, leading to significantly reduced radiation exposure when compared to other forms of radiography. Because our office is equipped with a cone beam unit, we can complete your important scans in our office without having to refer you to an outside practice.
iTero Digital Impressions
For many procedures, taking an impression of the patient's mouth is an important step in providing quality care. But taking impressions the old fashioned way wasn't always a pleasant experience. That's why our doctors have invested in the iTero handheld scanner. With this revolutionary tool, we can easily take high-quality impressions of your entire smile without subjecting patients to any of the unpleasant aspects of traditional impressions.
Piezosurgery Technology
The technology of controlled dimensional ultrasonic micro-vibrations has been developed specifically for cutting bone while minimizing trauma to the soft tissue. The micrometric cutting action provides ultimate surgical precision and reduces intra-operative sensitivity, while the selective cutting action maximizes safety to the patient.
Digital Radiography
While traditional x-rays reveal a lot about your smile, the old way of capturing them had significant drawbacks, like radiation exposure and the need for harmful chemicals. Digitizing the process has radically changed things. Digital radiography produces clearer images while exposing patients to 90% less radiation. The images are also available immediately, and they can easily be saved to our computer instead of being archived somewhere physically.
Paperless Office
In the past, providing patients with any level of service required a considerable amount of paper. Today, it's possible to provide top-notch care in a completely paperless office, and that's what our Worcester practice is striving to do. A paperless office is better for the information and cuts down on clutter. Your information is also more secure. Do you have questions about the benefits of going paperless? Let us know! Our team is happy to answer your questions.
SciCan Hydrim L11W
Sterilization is important for any practice, but ours has taken steps beyond what's necessary to ensure that our tools are clean and safe. Using the Hydrim L11W instrument washer, our instruments get the comprehensive cleaning they need on a daily basis.