All-On-4 – Worcester, MA
Creating Functional, Stable, and Longer-Lasting Smiles
When it comes to replacing an entire arch of teeth, you may decide that traditional dentures are not for you. Instead, you prefer a more stable solution – dental implants. Unfortunately, if your jawbone does not have enough support to withstand the pressure of an implant and its custom restoration, this can disqualify you from this type of restorative dentistry. What might seem hopeless is actually not at all thanks to Handsman & Haddad Periodontics, P.C. Using All-On-4 in Worcester, our team of dentists can restore your smile more quickly and without any necessary pre-implant dental work (i.e. bone graft or sinus lift). To find out how you can enjoy a longer-lasting smile, contact our office today to schedule an appointment.
How Do All-On-4 Implants Work?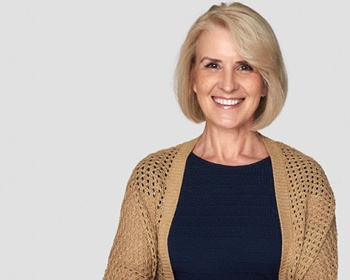 Even if your jawbone density is not up to par, Dr. Handsman and Dr. Jenny can use All-On-4 to give you the results you desire. While traditional implants require between 6 and 8 posts, All-On-4 uses only 4 titanium posts to hold up your custom denture. The way this works is we will first examine your oral cavity to determine the densest areas of your jawbone. After formulating a personalized treatment and surgical plan, we will make a few small incisions in your gums and place two implants toward the front of your mouth at an angle. This will ensure the greatest level of support when the restoration is placed.
Then, we will place two implants toward the back of your mouth to ensure proper stability and balance. Immediately following the implant placement, we will provide you with a temporary denture to wear while your permanent one is being created. This will allow you to see a completed smile the same day you arrived for your surgery.
Am I a Candidate for All-On-4 Implants?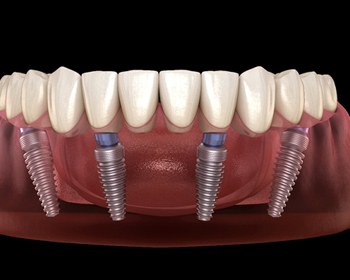 Although a strong jawbone isn't necessary for All-On-4, good oral and overall health are. The reason is if you have a compromised immune system or are suffering from gum disease, these can compromise your implant placement, causing them to ultimately fail. Your implants must be able to properly fuse to the bone and surrounding tissue, so if you smoke, have diabetes, or an autoimmune disorder, this can severely hinder your ability to heal properly.
If you have periodontal disease (gum disease), you will need to receive treatment prior to your implant placement. This is because gum disease can cause tooth and bone loss, so if an implant is surgically placed and months later, your gum disease worsens, there is a greater chance of your implant(s) loosening or falling out.
What Are the Benefits of All-On-4 Implants?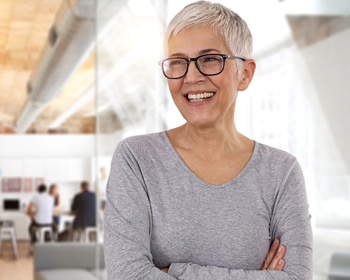 The most obvious benefit of All-On-4 is its ability to give patients full, complete smiles without the necessity of a strong, durable jawbone, but you'd be surprised how many other benefits this unique restorative surgery offers:
All-On-4 vs. Traditional Dental Implants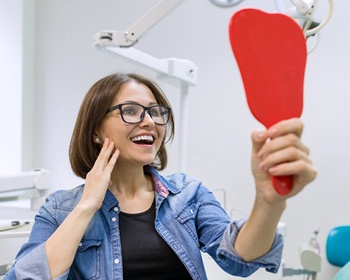 Dental implants of any kind offer a multitude of benefits that no other tooth replacement solution can provide; however, when comparing All-On-4 to traditional implants, you might find that the former offers: