Dental Implants — Worcester, MA
Rebuild Missing Teeth Good As New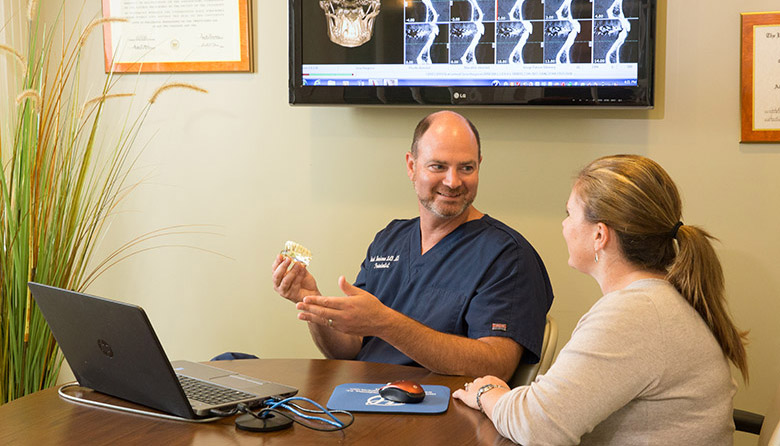 Thanks to advancements in dental technology and techniques, you now have plenty of options to choose from to replace your missing teeth. However, if you're looking for a solution that looks, feels, and functions just like a natural tooth, there's no better choice than dental implants in Worcester! This unique tooth replacement treatment replaces both the crowns and roots, allowing it to rebuild missing teeth good as new! To see if dental implants are right for you, give us a call to schedule your consultation.
Why Choose Handsman & Haddad Periodontics For Dental Implants?
#1 Team of Talented & Experienced Dentists Focuses on Your Comfort
#2 Permanently Replace Any Number of Missing Teeth
#3 State-of-the-Art Technology for Precise Treatment & Lasting Results
What Are Dental Implants?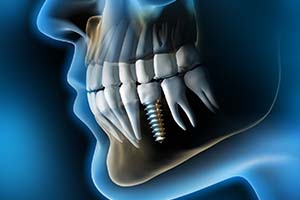 A dental implant is an artificial tooth root that can be surgically placed in your jaw to support a custom-made replacement tooth. A single implant can support a single crown while multiple implants can support a larger prosthetic, like a partial or full denture. While implants may sound high-tech, treatment can actually be more conservative than options like traditional bridgework since implants don't rely on neighboring teeth for support. Dental implants are affordable compared to the cost of replacing a single tooth with a three-unit bridge.
Treatment with dental implants involves close collaboration between you, your periodontist, and your restorative dentist. Dr. Handsman and Dr. Jenny work closely with your dentist to ensure good results and a great experience.
The 4 Step Dental Implant Process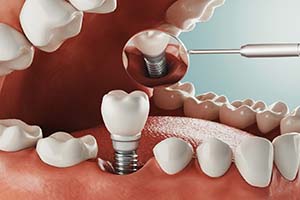 If you have been missing one or more teeth for some time, then there's a good chance bone resorption has occurred. This means that bone tissue has deteriorated because of a lack of stimulation. At Handsman & Haddad Periodontics, P.C., we are skilled and trained to restore smiles using dental implants. By installing prosthetics designed to mimic the natural tooth structure and provide continuous stimulation to the bone, you can enjoy a better quality of life with optimal functionality and aesthetics.
While no two cases are alike, the same steps must be followed to ensure your implants are a success: initial consultation, dental implant surgery, osseointegration, and finalized placement of your dental restoration. To more fully understand how dental implants work in Worcester, review the information below.
Initial Dental Implant Consultation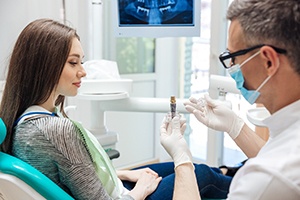 You will first meet with your dentist for an initial consultation. It is during this visit that they will use advanced dental technology and equipment to examine your smile and determine if your jawbone is dense enough to support your dental implants. If it appears weakened in certain areas, you may need a bone graft or sinus lift depending on the location of your missing teeth. Our team can perform these advanced procedures to ensure your oral cavity and facial structures are better equipped to support your future implants.
Dental Implant Surgery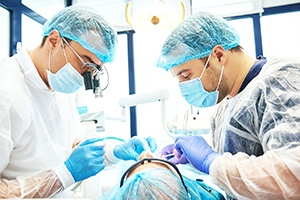 The dental implant procedure is really quite straightforward. After administering a local anesthetic, your implant dentist in Worcester will make a small incision in your gums. Then, a dental implant is strategically positioned in your jaw to take the most advantage of your jawbone density. Once the gum tissue is closed, a protective cap is placed over the implant to protect it.
Dental Implant Osseointegration & Abutment Placement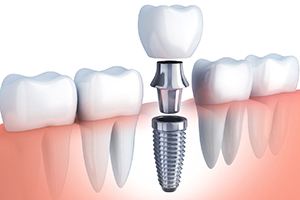 As you heal from surgery, the implant and surrounding bone fuse together. This process, called osseointegration, usually takes between two to six months. During this time, you will need to follow proper instructions to ensure your implants do not fail (i.e., giving up bad habits, eating healthy foods). Next, a metal abutment is attached to the implant. The abutment connects the implant to your prosthetic tooth and helps to make sure the implant remains embedded in the bone.
Delivery of Dental Implant Restorations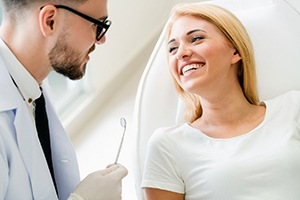 The final step in the dental implant process is receiving your customized restoration. To begin enjoying your new dental implants in Worcester, you must have your dental crown, bridge, or denture secured into place. This will create the look of a full, complete smile as well as offer greater stability, functionality, and confidence in your appearance. Using only the highest quality materials to create your restoration, you can expect it to blend in well with the rest of your smile, leaving you eager to show off your new teeth to family and friends.
Benefits of Dental Implants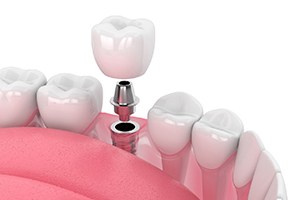 The benefits of dental implants in Worcester are many, and unlike traditional prosthetics, they offer stability and functionality because of their placement with the jawbone. The advantages of permanent prosthetics are evident because of the number of people choosing dental implants to replace their missing teeth. More than 500,000 each year are seeking a more permanent solution to tooth loss, and dental implants are the only way to effectively eat the foods you love, minimize your risk for jawbone loss, and enjoy a healthier smile for decades or even a lifetime.
Day-to-Day Benefits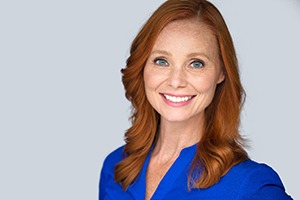 No Food Restrictions: Dental implants in Worcester allow you to eat all your favorite foods and consume a nutrient-rich diet that benefits both the mouth and body.
Natural Appearance: The high-quality materials used to create dental implants and their restorations allow you to embrace a more natural appearance that blends in with the rest of your smile.
Easy to Maintain: There are no special cleaners needed. Instead, you can brush, floss, and rinse like normal when wearing dental implants.
Living Your Best Life: Instead of feeling embarrassed by your smile, you can remain confident in the stability of your new teeth, allowing you to smile, eat, and speak without worry when surrounded by others.
Health Benefits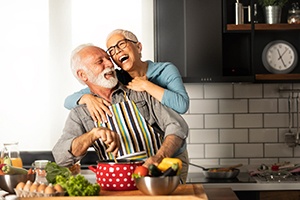 Healthy Teeth Remain Untouched: Instead of relying on healthy abutment teeth to hold your prosthetics in place, dental implants sit within the jawbone, so your natural teeth remain untouched.
Better Overall Health: Tooth loss can result in worsening overall health if left untreated. By allowing an implant dentist in Worcester to place dental implants, you reduce your risk for osteoporosis, diabetes, and even heart disease.
No Jawbone Deterioration: Your jawbone will remain stimulated each time you chew or bite down because of the placement of your dental implants. This keeps you from experiencing facial collapse.
Long-Term Benefits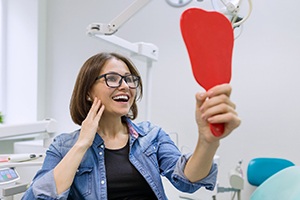 Long Lifespan: Dental implants have the ability to remain in place for 30 years or longer if properly maintained. This is vastly different from the regular adjustments and replacements required of dental bridges and dentures.
High Success Rate: When placed by a skilled implant dentist, your posts have a 95% success rate. After 10 years, if properly cared for, that success rate will remain between 90 and 95%.
You'll Save Money: In the long run, you'll actually save more money by choosing dental implants because you won't require dental adhesives to hold them in place, cleansing soakers to keep them clean, or replacements.
Who Dental Implants Can Help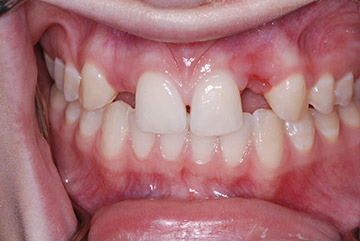 Before
After
How many dental implants you'll need will depend on how many teeth need to be replaced and their location. If you are missing one tooth or two consecutive teeth, then a single implant is usually sufficient to support one or two dental crowns. For several consecutive teeth, we'll fashion a fixed bridge that will be supported by two implants at both ends. Finally, for patients that missing several teeth or even all of the teeth along an arch, three to six dental implants will be necessary to support a denture.
Missing 1 Tooth
For patients missing one tooth, a single tooth implant could be an ideal solution. One titanium post is placed beneath the open socket. Once you've healed and the post is secure, a dental crown is attached.
Missing Multiple Teeth
If you are missing two or more teeth consecutively, then an implant-supported fixed bridge may be recommended. Two dental implants are surgically embedded to hold a row of replacement teeth. You may need up to four dental implants to support a partial denture.
Missing All Teeth
Dental implants can also be used to secure a set of full dentures along your top or bottom arch. A full denture often needs four to six implants in order to remain firmly held in place. However, some patients may instead benefit most from All-On-4® dental implants, wherein only four strategically placed dental implants are needed to support a full denture.
Understanding the Cost of Dental Implants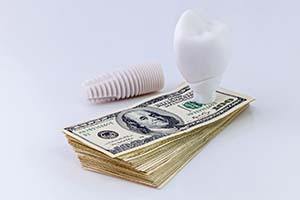 Naturally, the cost of your dental implant treatment will depend on many different factors, such as the number needed, the type of restoration, and if preliminary treatments are required. The periodontists in our office want you to know that while dental implants may cost a bit more up front, they can actually end up being more economical in the long run. Read on to learn more about the cost of dental implants in Worcester.
Are Dental Implants Worth the Investment?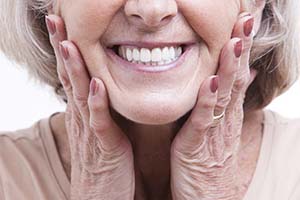 Consider this: denture wearers will need to repair dentures over time, and eventually replacement will be necessary. That's because they rest on top of the gum ridge, which changes shape as you age. Dental implants, however, can last for decades. In fact, dental implants have been known to last a lifetime among patients that maintain good oral hygiene and schedule checkups regularly. Therefore, the cost of dental implants could be less over the long-term when compared to other types of prosthetics that require maintenance and replacement.
Does My Dental Insurance Cover Dental Implants?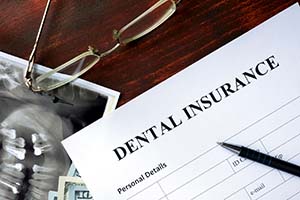 As dental implants become more common for tooth replacement, dental insurance companies are beginning to offer some coverage. Also, other components of the dental implant process may be covered, such as the cost of the restoration or any preparatory work including tooth extraction or bone grafting.
Dental Implant Technology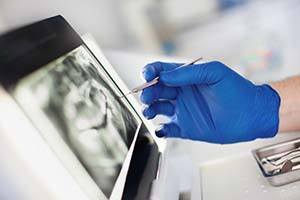 Because oral surgery is a primary component of implant dentistry, careful planning is vital. With this in mind, our Worcester practice is equipped with some of today's greatest tools, including the iCat cone beam scanner. Cone beam technology provides Dr. Handsman and Dr. Jenny with detailed, three-dimensional images of your teeth, your roots, and your bone structure.
As we consider your case and plan your procedure, we'll consult the images collected by our iCat. These images help us determine whether implants are truly right for you. If they are, they'll also help us as we determine where to place implants.
Since our office has access to cone beam technology, we won't need to refer you to a radiology lab. Instead, your scans are completed in-house. What's more, your scan only takes seconds to complete, ensuring that radiation exposure is drastically reduced.
Advanced Dental Implant Procedures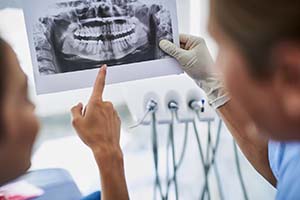 Would you like to know if dental implants are right for you? Dr. Handsman and Dr. Jenny would be happy to answer that question for you. During a visit to our Worcester practice, we complete a full assessment to determine your needs and the solution that would work best for you. If implant dentistry is really the right solution, we can begin working on a treatment plan with you and your general dentist immediately. However, many patients are not good candidates for dental implants initially and will need advanced dental implant treatments to get ready for their new smiles. Depending on your unique needs, we may recommend a dental implant procedure in Worcester to maximize your chances of successful implant treatment.
Bone Grafting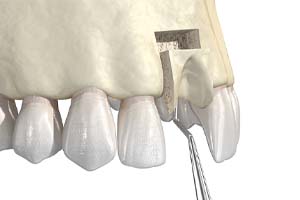 Over time, tooth loss can lead to deterioration of the jawbone. When the tooth root is no longer there to provide stimulation, it will weaken and cause additional teeth to loosen and eventually fall out. When looking for dental implants to replace your missing teeth, we may need to recommend bone grafting in Worcester to help strengthen your jaw. This process involves opening the gums to access the underlying, weakened parts of your bone. Placing grafting materials retrieved from your body or that of a donor into these specific areas, we will close up the gum tissue and allow the new and existing bone to integrate and strengthen.
The recovery process for this procedure can take several months, however, it is a necessary and worthwhile investment to ensure future success with your dental implants.
Sinus Lifts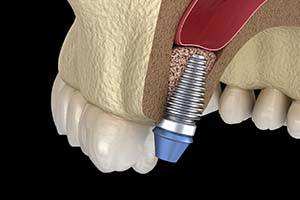 Bone in the upper posterior area of the mouth is often limited due to the sinus. Sinuses are naturally occurring air spaces above the upper teeth. When these teeth are lost, the sinus frequently expands, preventing the placement of dental implants. A sinus lift in Worcester is often used to increase the amount of bone available for the placement of dental implants. The sinus floor is gently elevated and bone replacement material is used to allow adequate room for the placement of dental implants. Healing from a sinus lift can take 4-9 months but will allow for the placement of permanent prosthetics once you are fully recovered.
Ridge Expansion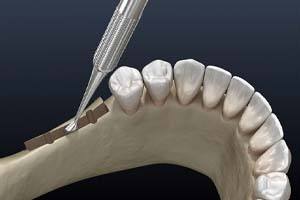 When the jaw is not wide enough to adequately support dental implants in Worcester, a ridge expansion may be required. This process involves dividing the inner and outer areas of the bone and creating a small wedge. Filling the divided areas of the bone with grafting materials, our team can close the gum tissue and allow the materials to help strengthen and widen the ridge so future dental implants can properly sit and fuse with the denser bone. Depending on your case and whether we feel it is possible, we may be able to immediately place your new implants once we've completed the ridge expansion.
Socket Preservation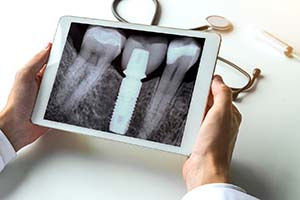 Extraction of a tooth results in some loss of the bone ridge, which anchors the tooth. The loss of bone can be quite dramatic even after only a year. This can cause an unsightly appearance and prevent the future placement of dental implants. Socket preservation can significantly reduce bone loss. Replacement material is placed in the extraction socket to stimulate bone growth. A membrane may also be used to prevent soft tissue from growing into the extraction socket and keep the bone graft material in place during healing.
Dental Implant Failure & Salvage
Dental implants have a high success rate of 95% upon initial placement. It is extremely rare that any complications will arise once your new teeth are in place. However, should a problem occur that results in a failed dental implant in Worcester, you can remain confident that our team can provide dental implant salvage to help save your smile for a more successful future.
Maintaining & Caring for Your Dental Implants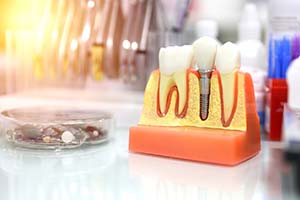 Knowing how to care for your dental implants is vitally important if you want them to last for decades. As one of the most worthwhile investments you can make in your oral healthcare journey, Dr. Handsman , Dr. Jenny, and the team at Handsman & Haddad Periodontics, P.C. want you to have all the information you need to keep your implants firmly in place as long as possible. Below you will find helpful tips regarding dental implant aftercare. By following these recommendations, you can reduce your risk for infection, decrease your chances of trauma, and enjoy a healthier, fully restored smile. If you have any questions, please don't hesitate to contact us to schedule an appointment .
Make Oral Hygiene a Priority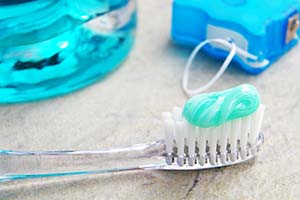 Whether you have dental implants in Worcester or not, prioritizing your oral hygiene is a must. But if you are living with dental implants, it's imperative that you stay on top of your brushing, flossing, and rinsing habits to keep bad bacteria from damaging the soft tissues surrounding your natural teeth and implants. To do this, make sure you:
Brush twice a day for two full minutes along the gum line and on all surfaces of your teeth (including the backside).
Floss between your teeth and underneath your restoration (if you have a bridge or denture) to remove any bacteria or food particles. It can be helpful to use a floss threader or water irrigator.
Rinse with an antimicrobial mouthwash to flush away any remnants left behind from flossing and brushing.
Drink plenty of water to keep your salivary glands working at an optimal level.
Protect Your Dental Implants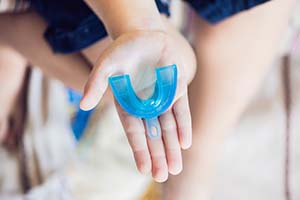 Physical trauma is a continuous threat to your dental implants. If you're not careful, you could damage your real and/or artificial teeth, causing additional time and money to be spent trying to fix your smile. To avoid the possibility of an implant becoming loose or damaged, make sure you are mindful of your surroundings, as a simple fall can cause you to break or chip one of your implants. You'll also want to make sure that you:
Talk to your dentist about a nightguard if you grind your teeth at night.
Wear a sportsguard while engaging in physical activity (both contact and non-contact sports), as these can protect your oral cavity from serious trauma.
Taking proactive measures to safeguard your smile will ensure your implants remain firmly in place for years to come.
Schedule Regular Dental Checkups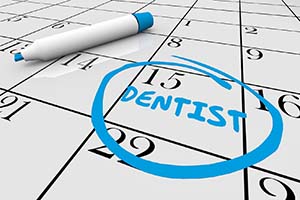 One of the most pivotal steps you can take if you have dental implants is to remember to see your dentist regularly. Unless otherwise noted, make sure to keep your dental appointments every six months. It is during these visits that your dentist will examine your smile and check your implants for any problems. It is also imperative that your gums be checked for any signs of disease, as this can lead to periodontitis and cause your implants to fail. Should there be any cause for concern, our team can quickly work to address your problems and keep your restorations right where they belong.
Dental Implant FAQs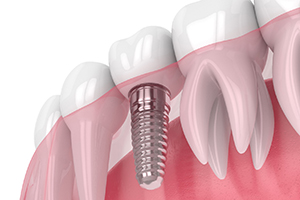 It's natural to have many questions about dental implants in Worcester. This complex procedure requires careful planning to ensure optimal results. This is why our team is here to provide clear, concise answers to some of the most common and frequently asked questions about dental implants. It is our goal to inform and educate everyone who enters through our doors, and we strive to provide the comfort, safety, and assurance needed to help you feel 100% confident in your decision. If after reviewing the following questions you need further details, contact us to schedule an appointment.
Is a Bone Graft Necessary to Receive Dental Implants?
Although it is not always necessary, a majority of patients will require a bone graft before undergoing dental implant placement. Why? Because it doesn't take long for the jawbone to begin the resorption process. When tooth loss occurs, the underlying bone will begin to deteriorate due to a lack of stimulation. As a result, it is unable to adequately support a dental implant. To remedy this issue, an implant dentist in Worcester will need to perform a bone graft.
By administering this type of treatment, it will not only strengthen the jawbone area but also provide optimal support so that your implants last longer.
How Are Dental Implants Better Than Traditional Bridges & Dentures?
When comparing these three types of tooth replacement, it's important to remember that only dental implants are capable of restoring the full root-to-crown structure. Traditional bridges and dentures only replace the visible portions of teeth (the crowns). Also, dental implants offer greater stability because of their placement within the jawbone. Because the two fuse over time, it allows patients to eat their favorite foods and enjoy natural oral function, just like regular teeth.
One of the most superior qualities of dental implants, though, is their longevity. They are designed to last decades if not a lifetime, unlike bridges and dentures that require replacement after about 10 years.
How Long Does It Take to Get Dental Implants?
Every patient is different, so the timeframe for completion is not the same for everyone. The osseointegration process that is required after dental implant surgery typically takes between 2-6 months. The gums and bone need to heal, and the implants must fuse properly to the bone for maximum support and stability.
However, if a patient requires preliminary treatments such as bone grafting or periodontal therapy, the timeframe will be longer, even up to one year. When meeting with your implant dentist, you can expect them to discuss the expected timeline so that you are fully prepared.
Does Getting Dental Implants Hurt?
Fortunately, the surgical process of receiving dental implants does not cause pain. We will administer local anesthesia to number the necessary areas of your mouth. If you require sedation, it may be possible to receive that as well. But once your surgery is complete, you can expect there to be minimal soreness and swelling afterward. The good news is that it can be managed with over-the-counter medication.
Why Should I Visit a Periodontist to Get Dental Implants?
Periodontists undergo extensive training and additional education. After obtaining a DDS or DMD, they pursue an additional three years of study, receiving experience in bone grafting and dental implant surgery. Unlike regular dentists, periodontists possess greater knowledge about dental implants and the proper way to place them for maximum success and longevity.