Implant Dentist for Worcester and Nearby Communities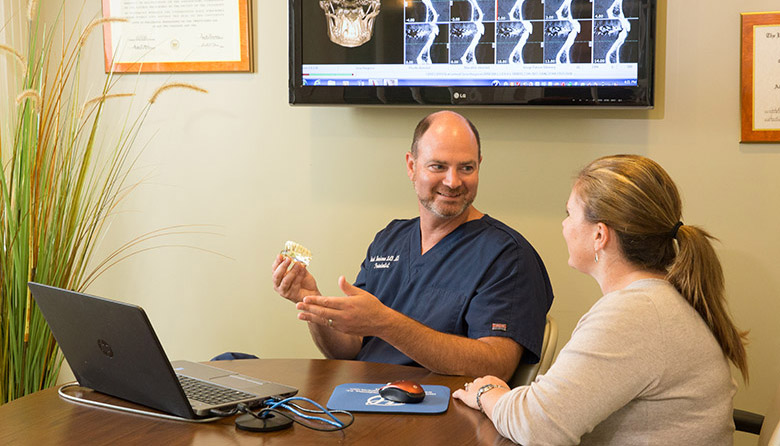 A dental implant is an artificial root surgically placed in your jaw to support a custom-made prosthetic. A single implant can support a single crown while multiple implants can support a larger prosthetic, like a partial or full denture. While implants may sound high-tech, treatment can actually be more conservative than treatment like traditional bridgework because implants don't rely on neighboring teeth for support. Dental implants are affordable compared to the cost of replacing a single tooth with a three-unit bridge.
Treatment with dental implants involves close collaboration between you, your periodontist, and your restorative dentist. Dr. Handsman and Dr. Haddad work closely with your dentist to ensure good results and a great experience.
Exceptional Care with Advanced Technology
Because oral surgery is a primary component of implant dentistry, careful planning is vital. With this in mind, our Worcester practice is equipped with some of today's greatest tools, including the iCat cone beam scanner. Cone beam technology provides Dr. Handsman and Dr. Haddad with detailed, three-dimensional images of your teeth, your roots, and your bone structure.
As we consider your case and plan your procedure, we'll consult the images collected by our iCat. These images help us determine whether implants are truly right for you. If they are, they'll also help us as we determine where to place implants.
Since our office has access to cone beam technology, we won't need to refer you to a radiology lab. Instead, your scans are completed in-house. What's more, your scan only takes seconds to complete, ensuring that radiation exposure is drastically reduced.
Are Dental Implants Right for You?
Would you like to know if dental implants are right for you? Dr. Handsman and Dr. Haddad would be happy to answer that question for you. During a visit to our Worcester practice, we complete a full assessment to determine your needs and the solution that would works best for you. If implant dentistry is really the right solution, we can begin working on a treatment plan with you and your general dentist immediately.
Socket Preservation
Extraction of a tooth results in some loss of the bone ridge, which anchors the tooth. The loss of bone can be quite dramatic even after only a year. This can cause an unsightly appearance and prevent the future placement of dental implants. Socket Preservation can significantly reduce the bone loss. Replacement material is placed in the extraction socket to stimulate bone growth. A membrane may also be used to prevent soft tissue from growing into the extraction socket and keep the bone graft material in place during healing.
Sinus Lift
Bone in the upper posterior area of the mouth is often limited due to the sinus. Sinuses are naturally occurring air spaces above the upper teeth. When these teeth are lost, the sinus frequently expands, preventing the placement of dental implants. A sinus lift procedure is often used to increase the amount of bone available for the placement of dental implants. The sinus floor is gently elevated and bone replacement material is used to allow adequate room for the placement of dental implants.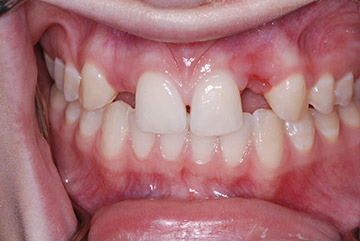 Before
After