Gum Grafting in Worcester, MA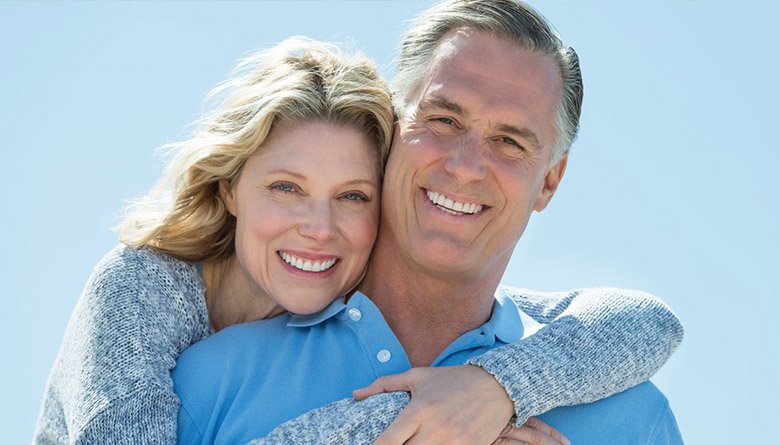 Take a look at your smile in a mirror. Do some of your teeth look a bit longer than usual? Are these same teeth sensitive to foods and beverages that are hot or cold? If so, then you may be experiencing gum recession, a condition that exposes sensitive teeth roots. The solution to this problem is sometimes a procedure called gum grafting, a type of periodontal surgery that rebuilds your gum line in order to cover exposed roots and create a balanced smile. Gum grafting in Worcester is a commonly performed treatment here at Handsman & Haddad Periodontics. Read on to learn more about gum recession and gum grafting.
The Reason Behind Gum Recession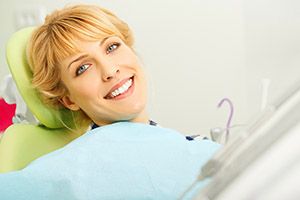 Periodontal, or gum, disease is most often the cause of gum recession. Gum disease starts out as gingivitis. This stage is usually recognized by red and swollen gums that may bleed when you brush or floss your teeth. Without proper treatment—a more stringent oral hygiene practice at home or an in-office procedure known as scaling and root planing—gingivitis can lead to periodontitis. In this phase of the disease, the bacteria that cause gum disease become more and more destructive. You begin to notice that your gums begin to stretch away from your teeth, causing receding gums and teeth that look longer.
A few more reasons for receding gums include:
Bruxism (teeth grinding and clenching), which places more pressure on gum tissue
Using a toothbrush with hard bristles or exerting too much force when you brush
Bite misalignment
Tongue and lip piercings that can irritate delicate gum tissue
Grafting To Repair Injured Gum Tissue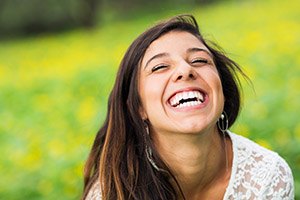 A gum graft can also be called a gingival graft or periodontal plastic surgery. By any name, this is a surgical periodontal procedure meant to cover an exposed tooth root surface with grafted oral tissue. , Dr. Handsman or Dr. Jenny will surgically remove a small piece of tissue from the roof of your mouth or another nearby location. This tissue is attached to the area where gum recession has exposed your tooth roots. This tissue graft works to halt the progress of gum recession and give you a more attractive looking gum line.
The more common forms of gum graft surgery are:
Free Gingival Graft, which uses a layer of tissue from the palate to thicken gum tissue in an area of recession
Subepithelial Connective Tissue Graft, performed to covered exposed tooth roots
Acellular dermal matrix allograft, which uses medically processed and donated human tissue for the graft
Gum Grafting FAQs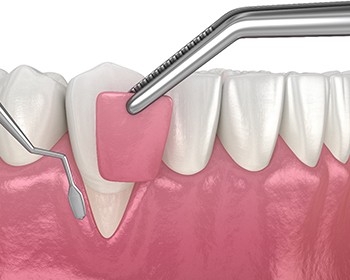 If you've recently learned you need gum grafting in Worcester, we understand you probably have a lot of questions. From not knowing what to expect to the uncertainty of whether insurance will cover the cost of the procedure may leave you feeling a bit in the dark. The good news is that the team at Handsman & Haddad Periodontics are skilled professionals at performing this type of procedure and will be happy to answer all your questions as well as address any concerns you might have. After reviewing the following FAQs about gum grafting, we invite you to contact us to schedule an appointment to learn more.
How long does the procedure take?
When arriving at our dental office for a gum grafting procedure, you can expect the entire process to take about 1-1.5 hours. While the surgery itself should take no longer than one hour, it is best to allow for extra time to ensure you are comfortable. Your periodontist in Worcester will also be able to answer any questions you might have as well as go over your post-procedure instructions to ensure a swift and successful recovery.
How long can I expect my gum graft to last?
No matter the type of oral procedure, proper care and maintenance are necessary to ensure results last as long as possible. With a gum graft, you can expect it to remain in place for a lifetime, but you will need to take care of your oral health on a daily basis. This means brushing with a soft-bristled toothbrush and being mindful of how much pressure you're using while brushing. You'll also want to make sure you're flossing between your teeth at least once a day and rinsing with an antimicrobial mouthwash. This will keep bacteria and food particles from adhering to your teeth and gums and causing decay and gum disease to develop.
Are there foods I should stay away from after having a gum grafting procedure?
One of the key components of a successful recovery is knowing what to eat and what to avoid. In the days immediately following your gum graft, it is best if you stick to softer foods like yogurt, soft cheese, and soup. Hard, crunchy foods can cause too much pressure, so make sure to avoid raw vegetables and hard fruits (i.e. apples, carrots) as well as anything fried.
Will my insurance cover the cost of my gum grafting procedure?
You will need to check with your dental insurance company to determine if and how much they will cover when it comes to receiving a gum graft. Most insurers will agree to pay at least a portion of the overall balance; however, it is best to check before agreeing to move forward with any type of treatment. Our team will even be happy to file your claim for you to minimize any stress you might experience when dealing with your insurance company.
Should you need assistance in paying any out of pocket costs, we work closely with CareCredit, which is a third-party financier who offers low-to-no interest payment plans to help you stay within your budget while paying for more complex dental treatment.