Surgical Care in
Worcester, MA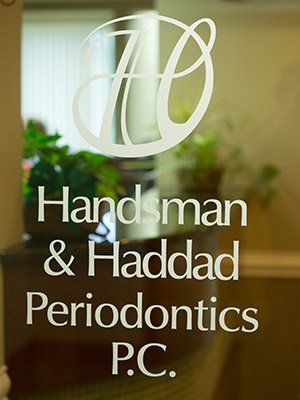 In addition to providing our patients with top-notch non-surgical services, our Worcester practice is also committed to providing quality surgical care. For patients who have advanced care needs, these services result in better periodontal health and improved self-confidence. We also help patients who are preparing for an implant procedure. If you have questions about any of the services below, or you'd like to schedule a consultation with either Dr. Handsman or Dr. Haddad, don't hesitate to give us a call.
Gum/Soft Tissue Grafting
When gum recession occurs, our teeth lose their natural defense against bacterial penetration and trauma. The solution to this very serious problem is gum reconstruction via gum/soft tissue grafting.
In cases where there has only been minor gum loss and some healthy tissue remains, the best course of action is to modify your brushing and flossing routine at home—no other treatment is necessary. But when recession has become advanced or has reached the mucosa, more attentive treatment is needed.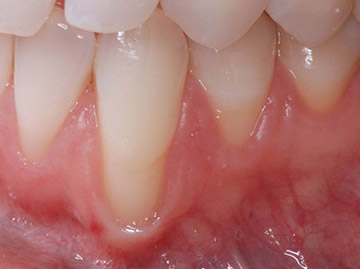 Before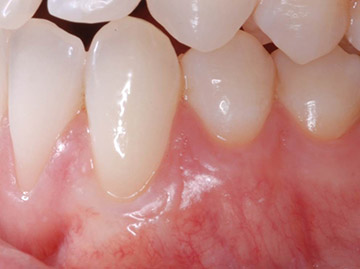 After
In addition to losing your smile's first line of defense against some very serious issues, gum recession can also result in root sensitivity to hot and cold foods as well as an unsightly appearance. Because the root surface is softer than enamel, the exposure of your roots makes you more susceptible to root cavities and root gouging.
Soft tissue grafting is designed to solve these problems. During your procedure, a thin piece of tissue is taken from the roof of your mouth, or from an adjacent area, and attached to the gingiva around your vulnerable tooth. The graft is placed in such a way as to cover the exposed portion of the root.
Grafting procedures are highly predictable and result in stable, healthy band of attached tissue around the tooth.
Bone Grafting
In addition to causing the gums to recede, advanced periodontal disease often results in bone loss. In fact, periodontal disease is the single greatest cause of tooth loss in adults. To help patients treat advanced periodontitis, our Worcester practice offers a procedure known as bone grafting.
Similar to soft tissue grafting, this procedure involves the removal of bone tissue from one place and its placement in a more vulnerable part of the mouth. In some cases where this tissue can't be taken directly from the patient, it may come from a tissue bank instead. A growth stimulant encourages the new tissue to graft with the patient's bone ensuring quality results.
Patients with periodontitis aren't the only ones who can benefit from this kind of procedure, though. Some patients who need dental implants don't have adequate jawbone density to support the placement of one or more implants. A bone grafting procedure returns strength and density to a jaw that has experienced bone loss.
Once your graft has been completed, our team completes a special re-evaluation to determine if the patient is now a candidate for dental implants. To learn more about this service and how it helps patients with periodontal disease or patients who need to replace missing teeth, give us a call. Our team is always happy to schedule a consultation with Dr. Handsman or Dr. Haddad.
Crown Lengthening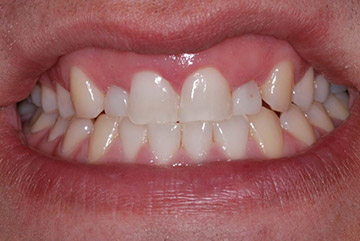 Before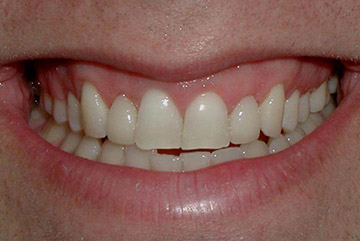 After
Do your front teeth look short or uneven? Have you developed a cavity below the gum line? In both of these cases, Dr. Handsman or Dr. Haddad may recommend treatment with a procedure known as crown lengthening. This surgical procedure is done to prepare you for dental crown restorations, or it may be used to cosmetically enhance your smile. In either case, the procedure involves the removal of soft tissue from around the patient's teeth.
For restorative cases, this is done so your general dentist can treat decay and place a custom-made dental crown. For cosmetic cases, crown lengthening corrects what is commonly referred to as a "gummy smile." A gummy smile occurs when the gum line appears to be creeping down over teeth, causing them to look short or stubby. Removing excess tissue through a crown lengthening procedure helps create a shapelier and more pleasing smile.
Are you thinking about cosmetically enhancing your smile with porcelain veneers? Do you need help treating decay near or below your gum line? Let us talk to you about crown lengthening. We work closely with you to deliver the most satisfactory results. Call us today with your questions or to schedule a consultation.
Osseous Surgery
Osseous surgery involves the careful reshaping of a patient's jawbone. In cases of advanced periodontal disease, bone is frequently destroyed as infection spreads. As a result, the gums have difficulty lying flat. Reshaping the bone below your gum line with osseous surgery alters this so your gums lie flat in the areas between your teeth.
As periodontal disease progresses, it destroys the mouth's supporting tissue and bone, resulting in pockets around the teeth. Over time, these pockets deepen, increasing space for bacteria growth. As harmful bacteria accumulate around teeth, they also accumulate and advance beneath the gums contributing to the formation of pockets and the loss of bone and sensitive tissue. If too much bone is lost, the patient may need to have one or more teeth extracted.
During osseous surgery, the gum tissue is folded back, and disease-causing bacteria underneath are removed. The tissue is then secured in place. In some cases, the bone beneath the tissue is smoothed to repair irregular surfaces. Not only does this leave bacteria with fewer places to hide, but it also aids the healing process.
Reducing the depth of pockets and eliminating bacteria are both important for preventing the progression of periodontal disease and improving oral health. Eliminating bacteria alone may not be enough to prevent disease from recurring. Reduced pockets alongside daily homecare and routine brushing and flossing increases your chances of keeping your natural teeth. These steps also decrease the chances of developing serious health problems associated with periodontal disease.
Dental Implants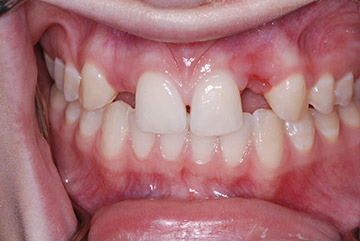 Before
After
How you feel about your smile affects how you feel about yourself personally and professionally. If you're missing one or more teeth, or you have dentures that no longer feel secure, confidence in your smile may be lacking. Thankfully, there's good news. With lifelike the results possible using dental implants, you can smile, eat, and speak with confidence again.
All-on-4® Implants / Teeth in a Day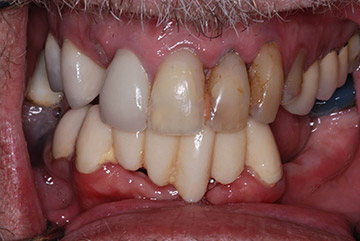 Before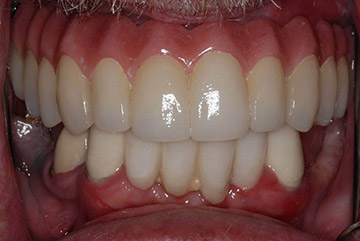 After
While treatment with traditional implants can take months to complete, treatment with All-on-Four® implants and Teeth in a Day can be completed in a single visit in our Worcester office. What's more, patients who lacked the bone density for treatment with traditional implants often have enough for treatment with one of these alternatives. If you're looking for a solution for missing teeth or you want to get rid of your ill-fitting dentures, let us talk to you about these alternatives to traditional implants.
Surgical Treatment FAQs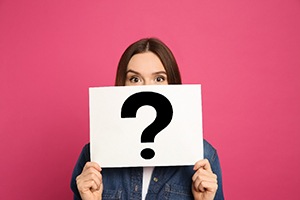 It's completely understandable if you're a little nervous about the prospect of undergoing oral surgery. To help put your mind at ease, we have put together the following list of FAQs about surgical procedures. If you don't see the information you are most curious about, give us a call so we can personally assist you. We look forward to speaking with you!
Is Surgical Treatment Painful?
We always take steps to make our patients comfortable during their surgical procedures. In addition to numbing the mouth, we also offer multiple types of sedation, including oral conscious sedation and IV sedation.
After any sedation and anesthetic wear off, you can expect some soreness and swelling, perhaps along with a bit of bleeding. We will give you detailed instructions to make your recovery as comfortable as possible. For example, we may advise you to get plenty of rest, take pain medications, and make temporary adjustments to your eating habits. Most patients find that their mouth is feeling normal within a few days or few weeks after their surgery.
Why Should I Choose a Periodontist for Surgical Treatment?
After completing dental school, periodontists devote a few extra years to learning about how to treat conditions that affect gum tissue. They are also experts at dental implant surgery. While it is true that some general dentists, as well as other types of specialists, offer a range of surgical procedures, we believe that in many cases, a periodontist is the best person to perform such services. Of course, when necessary, we are happy to partner with other dental professionals to ensure that our patients receive optimal care during every stage of their treatment journey.
What Risks Are Involved with Surgical Treatment?
The risks involved with the surgical procedures that we offer are minimal. However, they are not nonexistent. There is a small chance that an infection or other complications could occur. In rare cases, patients have a bad reaction to sedation or other medications that are associated with their surgery. You can be sure that we take ample precautions before and during surgeries to minimize risks so our patients have the best chance possible of enjoying a successful treatment.
Does Insurance Cover Surgical Periodontal Treatment?
Dental insurance does not always cover surgical periodontal procedures. In some cases, though, it can take hundreds of dollars (or more) off of a patient's total out-of-pocket costs. Our team will help you figure out how your policy applies and assist you with filing your claims. However, keep in mind that we do not alter our treatment recommendations based on what insurance policies will cover. Our patients' well-being is always our first priority.