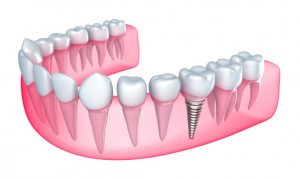 Congratulations! You've decided to have dental implants to replace your missing teeth. Of all the tooth replacement options available, implants are probably the most natural and the most healthful. The placement of your dental implants is key to the success of the procedure. In Worcester, dental implants are expertly planned and placed at the periodontics office of Handsman & Haddad.
Getting Ready for Dental Implants in Worcester
At Handsman & Haddad Periodontics, our doctors have special training and experience to ensure that your dental implant procedure is performed with precision and care. In addition, our office is equipped with advanced technology. The iCat cone beam scanner is a type of digital radiography that gives our doctors and their team a three-dimensional view of your teeth, roots, and bone structure. With cone beam imaging, we can better plan the precise location of implants. Dental implants should be positioned to take advantage of the greatest bone density. This creates the most secure foundation for your tooth restoration, whether a crown, bridge or denture.
The Dental Implant Procedure
If you've ever had a filling repaired, then dental implants should be no problem for you. Nevertheless, we understand that the thought of oral surgery can make some patients nervous. We offer two different types of sedation dentistry. For moderate anxiety there is oral sedation. More severe anxiety may require intravenous sedation. This type of sedation may also be helpful if you need to have several implants embedded during one appointment.
Once you are comfortable and the site is anesthetized, one of the doctors will make a small incision in your gums. Then the dental implants are embedded in your jawbone according to the plan based on information gathered from the scan.
After surgery, you may experience some discomfort and swelling. These should last no more than a day or two and can usually be managed with ibuprofen or acetaminophen. For the first few days after surgery you'll want to stick to a diet of soft foods. Before your appointment, be sure to stock your refrigerator and pantry with yogurt, pudding, instant mashed potatoes, ice cream and the like.
Complete healing from dental implant surgery takes anywhere from three to six months. During this time the implants and surrounding bone tissue fuse together to form that secure foundation for your tooth replacement. Once healed, you'll return to your general dentist who will attach an abutment to the implant. This acts like a connector between the implant and your new visible tooth.
Call Our Office Today
If you would like more information about the placement of dental implants, schedule a consultation with one of the periodontists at Handman & Haddad Periodontics in Worcester, MA.