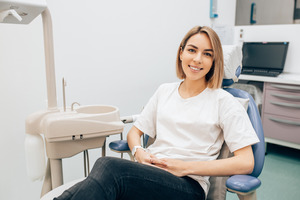 There are a wide variety of procedures that your periodontist may suggest for your smile based on the state of your teeth, your gums, and your overall oral health. In some cases, they may recommend a procedure known as crown lengthening. What exactly does this treatment involve? And why might your periodontist suggest it? The answers to these questions can be found below.
What is Crown Lengthening?
Crown lengthening involves removing some of the gum tissue in a specific area of the mouth. This typically requires the periodontist to make some small incisions in the gums, and the underlying bone might have to be reshaped as well. The procedure is often performed around a single tooth, but sometimes multiple teeth might be involved. Sedation may be used to help keep you calm and comfortable while crown lengthening is being performed.
When Will Your Periodontist Recommend Crown Lengthening?
So when is crown lengthening actually necessary? Your periodontist will naturally need to take your unique oral health circumstances into account before making any recommendations, but they may suggest the treatment in the following situations:
A Badly Damaged Tooth: Sometimes teeth break off at the gumline, which makes it difficult to place a crown. Thus, crown lengthening may be necessary to expose more of the tooth so that it can be restored.
Gum Tissue Getting in the Way of Treatment: If there is an excessive amount of gum tissue around a given tooth, it could get in the way of having a crown or another restoration placed. With crown lengthening, your periodontist can get rid of the gum tissue that isn't needed so that the tooth can be treated.
Cosmetic Issues: Even if your mouth is in overall good health, crown lengthening could still be beneficial as a cosmetic procedure. Some people have teeth that look unusually small due to having too much gum tissue; crown lengthening can help restore balance to the grin's appearance.
Is Crown Lengthening the Right Choice for You?
Now that you understand why crown lengthening might be performed, the next question to consider is whether it's the best fit for your smile. For you to be considered a candidate for the treatment, your mouth must be in generally good condition, and your periodontist will need to make sure that you don't have any health problems that would prevent you from having surgery performed.
Do you have any questions about how crown lengthening works or want to clarify why you might need it? Remember that you can always let your periodontist know if you have any concerns. The more you know, the more confident you can be that you're making the right decisions for your smile.
About the Author
Dr. David Handsman went to the University of Tennessee, where he eventually earned his Master of Dental Surgery in periodontology. He holds membership with the American Board of Periodontology, the Massachusetts Periodontal Society, and various other organizations. His Worcester practice, Handsman & Haddad Periodontics, P.C., offers various periodontal solutions, including crown lengthening. To schedule a consultation with Dr. Handsman, visit his website or call (508) 753-5444.