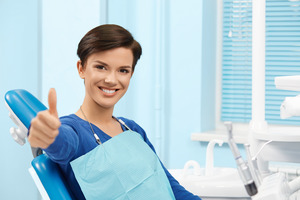 Crown lengthening is a treatment that involves removing unnecessary gum tissue from your mouth in order to reveal more of the structure of your teeth. You can trust your periodontist to handle this procedure, but why might you even need to have it performed in the first place? Here are 3 signs that you might benefit from crown lengthening.
1. You Have a Gummy Smile
When it's time to show off your smile for the camera, how much gum tissue is visible? Ideally, the answer should be "about two millimeters or less." If it's more than that, then your grin may look a little too gummy. This cosmetic issue has a number of possible causes; for example, you might have an upper lip that's shorter than normal, or there may have been a problem with the way your jaw developed.
While there are multiple ways to improve the appearance of a gummy smile, crown lengthening is often an excellent option. The gumline will be carefully reshaped to make it more proportionate with your teeth, resulting in a more balanced grin.
2. You Have Teeth That Appear Unusually Short
Sometimes your teeth appear shorter than they actually are. This can happen if they are unable to fully erupt from under the gums, thus leaving some of your tooth structure hidden by soft tissues. Alternatively, you may simply have more gum tissue than normal due to your genetics.
Your periodontist can use crown lengthening to reveal more of a given tooth by getting rid of the unnecessary gum tissue around it. That way, when you show off your smile to someone you're meeting for the first time, you can be sure that your teeth will help you make the best possible first impression.
3. You Have a Severely Damaged Tooth
When a tooth is chipped or cracked, it can often be repaired with a dental crown. However, some cases of dental damage are more severe than others. In certain situations, a tooth might break off at the gumline, thus preventing a crown from being attached.
Before your tooth can be repaired, crown lengthening may need to be performed. Once more of the tooth has been revealed, placing a restoration may once again be possible.
Ultimately, you will need a professional's help to determine whether or not crown lengthening is the best option for you. If you're interested in this treatment, pick up the phone and give your periodontist a call.
About the Author
Dr. David Handsman is a well-regarded lecturer in the field of periodontology and often shares his knowledge with his peers. His Worcester practice, Handsman & Haddad Periodontics, P.C., offers crown lengthening as a solution for patients with gummy smiles. If you would like to schedule a consultation with Dr. Handsman, visit his website or call (508) 753-5444.