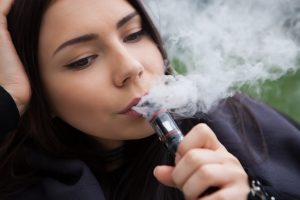 Smoking is bad for your health. That's hardly news anymore. Doctors, scientists and now even cigarette companies themselves will tell you not to smoke.
However, the latest alternative—vaping—may not be much healthier than smoking. E-cigarettes are ubiquitous. And people seem to think that they are a healthy substitute for traditional cigarettes. But are they really? Could there be short- and long-term oral as well as overall health consequences? Read on to find out.
First, What is an E-Cigarette?
An e-cigarette is an electronic handheld device that vaporizes flavored liquid, which is then inhaled. Some liquids contain nicotine and some do not. For this reason, the United States Food and Drug Administration (FDA) now requires that e-cigarettes with nicotine state: "WARNING: This product contains nicotine. Nicotine is an addictive chemical." If the liquid in an e-cigarette does not contain nicotine, then the warning says, "This product is made from tobacco."
Why is Vaping Popular?
Lots of people vape to replace nicotine when they are trying to quit smoking traditional cigarettes. For others, vaping is strictly recreational.
According to the FDA, e-cigarettes are the most commonly used nicotine product among young people. Approximately 16 percent of high schoolers and slightly more than five percent of middle school students admit to using e-cigarettes. Most believe they are harmless.
Are E-Cigarettes Harmful or Harmless?
A Chinese scientist invented the e-cigarette in 2003 and they entered the U.S. market in 2006. Because they are relatively new, more research needs to be done to determine accurately the affects on the oral cavity as well as general health. However, we do know a few facts already.
As with cigarettes, the vaporized liquid contacts the oral cavity at its hottest temperature.
Studies show that e-liquids contain toxins such as diethylene glycol, which is also used in antifreeze and other substances.
If there is menthol in e-liquid, then just as with traditional cigarettes, this can be harmful to cells in the mouth and the connective tissue within gums.
Of course, the effects depend on how often e-cigarettes are used and the type of e-liquid used. Dental professionals see everything from stomatitis—a condition that causes sores and swelling in the mouth—as well as xerostomia, or dry mouth, which can lead to an increase in dental caries and a higher risk of periodontal disease. There can also be ulcers or burns on the palate (roof of the mouth).
Unfortunately, many users don't believe vaping is harmful. However, when the affects are displayed on a chairside computer monitor via intraoral camera, there can be a significant impact.
If you or someone you know vapes, speak to your dental professional. The risks may be far greater than the enjoyment.
Meet the Doctors
Dr. Handsman and Dr. Jenny are periodontists in Worcester. Both are trained and skilled in the diagnosis and treatment of periodontal disease through surgical and non-surgical treatments. Call to schedule an appointment today.