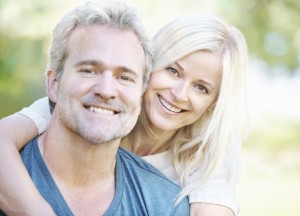 As periodontists, Dr. David Handsman and Dr. Todd Jenny and their staff see patients who have a wide range of dental and oral health concerns. Some require single treatments to regain functionality and appearance, while others require a collection of treatments. For those patients, we offer full-mouth reconstruction. As the name suggests, full mouth reconstruction involves rebuilding or replacing most of the teeth in a patient's mouth. The process combines aesthetic and restorative procedures to improve the health, function and appearance of your smile. Worcester implant dentists Drs. Handsman and Jenny frequently include implant-supported dentures in a plan for full mouth reconstruction. These not only enhance the beauty of your smile, but also improve speech and chewing capabilities. Read on to learn more.
Your Smile and Full Mouth Reconstruction
Full mouth reconstruction is often confused with the term smile makeover, which is designed to improve only the aesthetic value of your smile. Full mouth reconstruction, on the other hand, focuses on the procedures needed to restore dental function. People needing full mouth reconstruction often present with:
Tooth loss because of severe decay, traumatic injury or advanced periodontitis
Teeth that are fractured and unsightly
Teeth that are worn from bruxism (teeth grinding) or acid erosion
Jaw, neck, facial muscle and headache pain because of a malocclusion (improper bite)
Thus, a plan for full mouth reconstruction may need to include a number of different procedures such as crown lengthening, dental crowns and bridges, and dental implants.
Implant-Supported Dentures
As Worcester periodontists, Drs. Handsman and Jenny are uniquely qualified to provide implant-supported dentures as part of full mouth reconstruction. They are both experts in the surgical placement of dental implants. The results are both secure and extremely beautiful and natural looking.
Implant supported dentures are comprised of the implants that are embedded in your jawbone and the full denture attached to the implants. Each implant is a small titanium post that is carefully placed in your jaw to take advantage of the most bone density. The success of an implant largely depends on the strong bond between the post and the surrounding bone tissue. Thus, the strategic positioning of the implants along your jaw is crucial. While you heal from your implant placement surgery, this bond becomes more and more secure as the post and bone integrate.
Once the healing process is complete, dentures with a metal framework on the underside are attached to abutments that rest on top of the implants. The result is a complete set of teeth that provide security when you chew or speak, as well as an attractive smile.
Contact Our Office Today
To learn more about dental implants in Worcester or to find out if you are a candidate for full mouth reconstruction, call our office today.