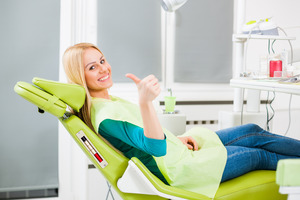 When your periodontist is going over your options for gum disease treatment, they may recommend osseous surgery. The goal of the procedure is to get rid of infected gum pockets as well as the bacteria that are causing your gum disease. But while osseous surgery is definitely an option worth considering, it's important to make sure that you understand what it entails – as well as what kind of risks it involves.
How Does Osseous Surgery Work?
Your periodontist will begin by making an incision in your gums and folding back the tissue to reveal the roots of your teeth. This will give them access to the bacteria that has accumulated in this normally hard-to-reach area. After removing the bacteria, the surrounding bone tissue is gently smoothed and reshaped as needed. (In some cases, a bone graft may be required.) At the end of the procedure, the gums will be sutured back into place.
What Risks are Associated with Osseous Surgery?
Even generally safe procedures like osseous surgery still come with a few risks. Here are a few complications that could potentially occur:
You could have a higher chance of developing cavities on the roots of your teeth.
If something goes wrong during the healing process, an infection might occur.
The gums around the teeth that were treated may recede more rapidly.
The teeth in question might be more sensitive than normal, leading to discomfort whenever you eat hot or cold meals.
How Can You Take Care of Your Mouth After Osseous Surgery?
If you want to avoid problems after osseous surgery, you need to focus on giving your mouth proper aftercare. Naturally, your periodontist will be happy to give you detailed instructions on what to do after your procedure. Below are some of the tips they might give you:
Take any pain medications or antibiotics that you were prescribed.
Follow any dietary instructions you receive, such as eating only soft foods.
Do not use tobacco products of any kind, as they might adversely affect the healing process.
After the first day, start rinsing your mouth regularly with salt water or an antibacterial mouthwash.
To keep swelling down, hold an ice pack over the affected area for 15 minutes at a time.
Fully understanding the risks of osseous surgery – and how you can keep said risks to a minimum – is essential. Be sure to speak to your periodontist if there's anything you're concerned about; by the time you're ready to have the actual procedure performed, you should feel like you have a complete picture of what you're committing to.
About the Author
Dr. David Handsman got his Doctor of Dental Medicine at Temple University, and he earned a Masters of Dental Surgery in periodontology at the University of Tennessee. He is well respected by his peers and is a proud member of various professional groups such as the American Academy of Periodontology. He offers osseous surgery along with various other periodontal procedures at Handsman & Haddad Periodontics, P.C. To schedule a consultation with Dr. Handsman at his Worcester practice, visit his website or call (508) 753-5444.