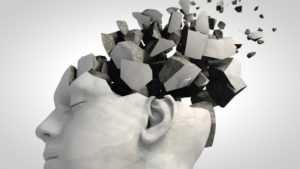 Currently, there are millions of Americans living with some form of gum disease. What can start as gingivitis (the first stage) can quickly escalate and develop into a more serious condition known as periodontitis. Without proper treatment by a periodontist in Worcester, patients can begin to experience bone and tooth loss as well as serious health conditions, one of which is Alzheimer's. This devastating disease robs the mind and steals away a person's ability to remember people, places, and even themselves. But how can a problem that starts in the mouth lead to an issue within the brain? A local periodontist explains the hidden link that connects the two.
The Connection Between Alzheimer's and Gum Disease
Researchers at the University of Central Lancashire found a link between Alzheimer's and P. gingivalis (Porphyromonas gingivalis), which is a specific type of bacteria that develops in individuals with periodontitis. This same bacterium was also found in people living with Alzheimer's. While it's not a guarantee that someone who has gum disease will develop this neurological disease or vice versa, there is much research that points to it being a possibility.
To take a closer look, researchers injected P. gingivalis into the gums of healthy mice, which later appeared in their brains. It was also discovered that the animal's brain experienced damage to the neurons and increased levels of beta-amyloid, which when clumped together, forms plaque within the brains of individuals living with Alzheimer's.
While this specific study doesn't provide enough evidence to definitively say that individuals living with gum disease will 100% end up with Alzheimer's, it is a clear indicator that there is a connection between the bacteria found in both the gums and brain.
Ways to Prevent Gum Disease
While researchers remain on the fence as to whether a lack of flossing will ultimately lead to a decrease in cognitive brain functioning, they do recommend individuals take necessary steps to maintain good oral health.
If you currently suffer from gum disease, there are ways in which your periodontist can help. By employing treatments such as scaling and root planing, they can remove plaque and tartar accumulations and smooth out the tooth roots to encourage proper reattachment. This typically requires more frequent visits to keep the gum tissue from becoming infected again.
If you are not yet seeing the signs attributed to gum disease (i.e. red, swollen, tender gums that bleed), here are some tips that can help keep your oral tissues and teeth disease-free:
Brush your teeth twice daily for two minutes using a soft-bristled toothbrush and fluoride toothpaste.
Floss at least once a day, preferably before bed.
Rinse with an antimicrobial mouthwash twice daily.
Quit smoking.
Eat a nutrient-rich diet and limit your sugar and starch intake.
Keep your regular dental checkup and cleaning appointments every six months.
By following these tips and taking care of your oral health, you can avoid the many problems that can develop with gum disease.
About the Authors
At Handsman & Haddad Periodontics, P.C., we are specialists in periodontal care. Dr. David Handsman and Dr. Todd Jenny are trained experts who can help improve your soft oral tissues and offer preventive tips to avoid potential dangers that can come with worsening gum health. Because of the close link between the mouth and body, their team will go above and beyond to ensure your smile is free of disease so that your overall health remains in optimal condition. If you suspect you may be suffering from red, inflamed, or tender gums, contact us at (508) 753-5444.