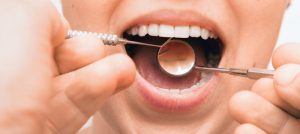 While your periodontist in Worcester focuses on treating individuals with gum disease, they also strive to provide valuable patient education on ways to maintain a healthy smile. No one wants to see a mouth that is plagued by harmful plaque and tartar, or loose and missing teeth, which is why dentists and periodontists are always willing to share tips and advice on what steps can be taken at home to ensure a patient's oral health remains on track. If you think you're already doing a good job of keeping a clean mouth but want to learn what else you can be doing, check out these 5 helpful tips.
Don't Skip a Day of Brushing
Brushing your teeth twice a day for two full minutes is crucial to maintaining good oral health. Not only does it remove harmful plaque and tartar but as a result, it reduces your chances of developing tooth decay and gum disease. But it's more than just brushing, it's doing it the right way. Using the right size brush head, the correct angle, and not brushing too hard can make a big difference in how clean your mouth is when finished.
Floss…Every Day
Whether it is in the morning or at night before bed, make sure you are flossing between your teeth. This is the only way you can reach areas your toothbrush cannot. Just remember never to push the floss, but instead, gently pull it between your teeth in a back and forth motion. This will prevent damage to your soft tissues and help you to avoid possible gum disease in the future.
Use Fluoride Toothpaste
You will likely be hard-pressed to find a toothpaste that doesn't contain fluoride, but just in case, always make sure to check the label. Using a toothpaste that contains fluoride will better protect your teeth from decay and cavities while strengthening your tooth enamel.
Replace Your Toothbrush Regularly
You should replace your toothbrush every 3-4 months. Why? Because the bristles can become frayed and be ineffective at removing plaque and tartar. Also, germs can easily attach to your toothbrush and cause you to become sick, which is why you should store it away from the toilet area of your bathroom but also allow it to air dry so that additional bacteria cannot accumulate on your brush.
Minimize How Much Sugar You Consume
If you want to avoid a cavity-filled smile, avoid consuming too much sugar. Not only do bacteria breed as a result of it, but it turns into plaque and ultimately, gum disease. To rid your teeth of the sugar found in candy, fruit, juices, and a host of other foods, make sure to brush and floss your teeth as well as drink plenty of water. This will flush the contents out of your mouth and prevent it from sticking to the chewing surfaces.
By following these helpful tips, you can avoid spending time being treated for gum disease and instead, enjoy a happier, healthier smile.
About the Practice
Want to avoid possible tooth decay and gum disease? At Handsman & Haddad Periodontics, P.C., we are specialists in periodontal care. By administering the proper treatment, Dr. David Handsman and Dr. Todd Jenny can not only help you regain your gum health, but we can also offer tips and techniques on ways to prevent it from happening in the first place. To learn more about what we can do for you and how to keep your smile looking and feeling its best, contact us at (508) 753-5444.