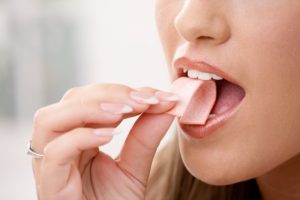 It's the start of a new week, and you find yourself running around trying to accomplish as many tasks as possible. From projects due at work to chores around the house to trying to decide what you'll cook for dinner, keeping up with your oral hygiene may not be at the top of your priority list. Fortunately, there are ways you can combat the harmful bacteria that can negatively impact your smile. A periodontist in Worcester shares 5 dental hacks you should consider when looking to maximize the health of your teeth and gums.
Keep Gum in Your Purse or Pocket
Chewing gum that contains Xylitol is a great trick for increasing saliva production and keeping food particles from sticking to your teeth. Not only is it a far better habit than biting your nails or chewing on a pen or pencil, but the natural sweetener will satisfy your sweet tooth without the unnecessary sugar. This means you don't have to worry about your gum potentially causing tooth decay, cavities, or gum disease. Also, the xylitol makes it possible so that the bacteria in your mouth does not digest it, unlike traditional sugar.
Don't Forget to Bring the Floss
If you are one of the few individuals who carry around a small bag with oral hygiene essentials, good for you! Not only will having a toothbrush and toothpaste handy after a lunch meeting prove beneficial for your teeth and breath the rest of the day but dental floss will also help to remove any harmful bacteria and food particles from in-between your teeth. Fortunately, flossing is easy and can be done anywhere, so whether you keep it in your car, purse, or at your desk, take a few minutes to floss.
Rinse Out Your Mouth
No matter when or what you eat, the food particles left behind from your food tend to stick to your tooth enamel. Over time, if not removed, these pieces can begin to create bacteria that will eat away at your teeth. When possible, try to rinse out your mouth after eating and/or drinking. It's not always possible but when you can, this quick and simple trick will wash away anything in your mouth that could potentially lead to tooth decay, cavities, or gum disease.
Slow Down and Take Your Time
At some point throughout the day, you will need to brush and floss your teeth. Even if you are late for an appointment or busy trying to do three different things at one time, your oral health depends on these few minutes of care. Make sure the time you spend maintaining your smile isn't rushed or damaging. Brushing doesn't require hard, fast motions. This can do more harm than good. Instead, opt for a soft-bristled toothbrush and a gentle motion to remove bad bacteria from your mouth. Also, don't jab or push dental floss up or down, as this can hurt your soft oral tissue.
Protect Your Smile
Whether you are prone to bruxism or have temporomandibular joint disorder (TMD), wearing a nightguard will help you avoid excessive wear and tear on your teeth and alleviate jaw pain that can become debilitating. By wearing a nightguard, you will be able to sleep better, wake up feeling less discomfort, and enjoy the effects of a happier, healthier smile.
About the Practice
Want to improve your oral health? At Handsman & Haddad Periodontics, P.C., we are specialists in periodontal care. By administering the proper treatment, Dr. David Handsman and Dr. Todd Jenny can not only help you regain your gum health, but we can also offer tips and techniques on ways to prevent it from happening in the first place. We also offer our patients valuable educational resources and unique dental hacks to help maintain healthier teeth and gums at home. To learn more about what we can do for you and how to keep your smile looking and feeling its best, contact us at (508) 753-5444.