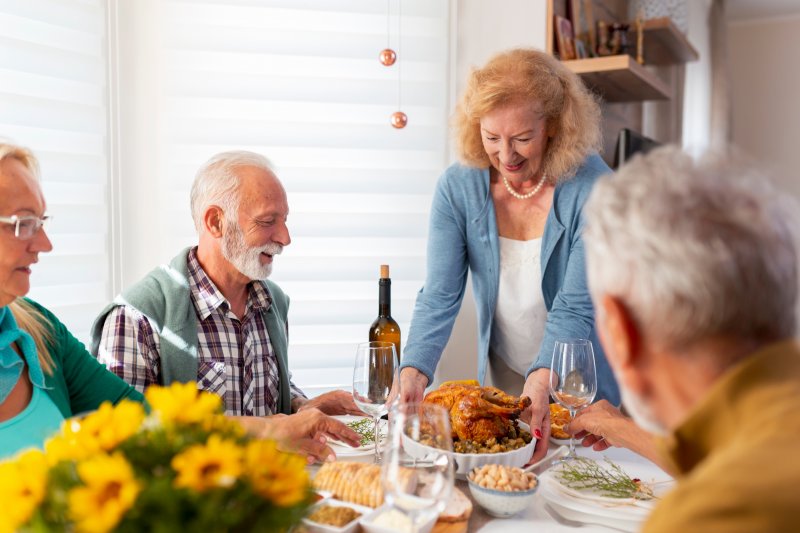 If you're choosing to use your holiday break to undergo oral surgery, you may wonder if there is any hope of enjoying the festivities with family and friends. Naturally, it is essential that you pay close attention to your recovery and ensure that you are healing properly, but that doesn't mean you have to forgo the delicious foods and good times of the season. Here are three tips to keep in mind when visiting loved ones and having a memorable Thanksgiving.
Try to Wait to Travel
While this is not always possible, it is recommended that you wait a few days before traveling to your holiday destination. Whether you're going by plane, car, or train, you need to make sure that you have the necessary items with you to keep swelling and discomfort to a minimum. Ice packs, over-the-counter pain relievers, and a pillow can help keep you comfortable. After the initial few days of post-op, you can expect these symptoms to begin to dissipate.
Take Time to Rest
Thorough healing is essential after undergoing any type of periodontal surgery. Your mouth is very sensitive and needs ample rest to function normally, so although others might be partaking in a game of football on Thanksgiving day, it's best to get as much rest as you can. Even if it means lying on the couch and watching the parade or sports on TV, this allows you to be around others while avoiding strenuous activity. Choosing to do otherwise will only increase swelling and cause additional discomfort.
Enjoy Soft Thanksgiving Foods
This might be the hardest aspect of recovery during the holidays. Eating dense, coarse foods will only cause additional discomfort, as chewing will likely be quite difficult. This is why your periodontist in Worcester recommends sticking to soft foods. Items like mashed potatoes, canned yams, eggs, stuffing, and soup can be ideal options to enjoy. You can also add some enjoyable holiday desserts that do not require much chewing. However, you should make sure that you maintain optimal oral hygiene during this time. Any sugary or starchy foods can pose a problem for your teeth and gums, so brushing and flossing will be important.
If pursuing periodontal surgery on your time off is most convenient, take advantage of it and avoid taking time off work. But remember to adhere to the tips provided by your dentist to ensure that you allow your mouth to heal in a way that allows for greater health and function in the future.
About the Practice
At Handsman & Haddad Periodontics, P.C., we are specialists in periodontal care. Dr. David Handsman and Dr. Todd Jenny want all patients to feel welcome and comfortable when entering through our doors. As highly trained professionals, we offer various solutions to help patients who are suffering from tooth loss or periodontal disease. If you are getting ready to celebrate the holidays but need help to make sure your periodontal surgery remains a success, learn more by contacting us at (508) 753-5444.