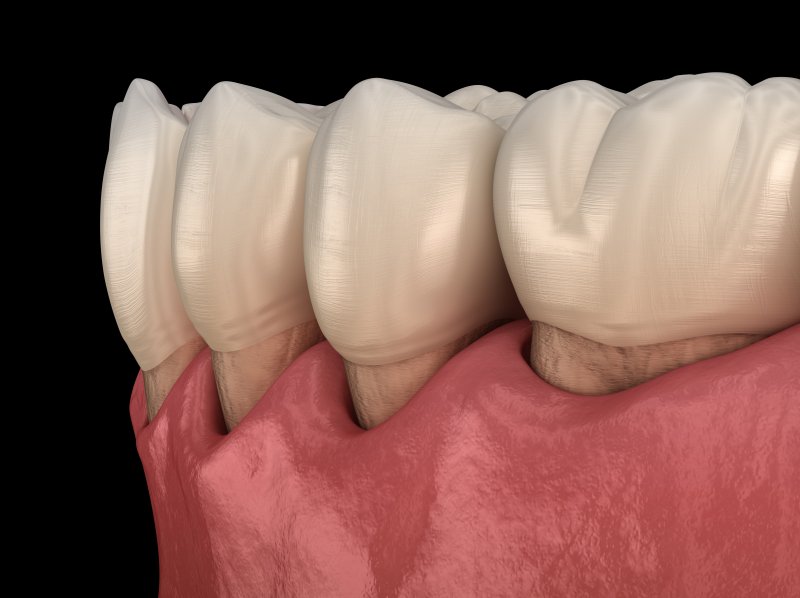 Have you recently noticed your teeth appear longer than usual? Do your gums look red or feel swollen? If you answered "yes" to either of these questions, you are likely suffering from gum disease. When caught in its early stages (gingivitis), the symptoms are reversible; however, once it escalates, problems like gum recession may have you wondering, "will my gums grow back?" A periodontist in Worcester explains the unfortunate reality of advanced periodontal disease and what you can do to avoid it.
What Causes Gum Recession?
The soft tissues surround your teeth are there to fit snugly and protect the more vulnerable parts of your tooth structure (i.e., the root). When your gums begin to recede, it opens the door to more serious dental problems, especially infection and sensitivity. But what causes these tissues to recede in the first place?
Most commonly, gum recession occurs because of:
Facial trauma
Bruxism (teeth grinding or clenching)
Excessive or hard brushing or flossing
Age
Poorly aligned teeth or a misaligned bite
The use of tobacco products
Gum disease
---
Request an Appointment
---
Can Gums Grow Back?
If you were to ask any periodontist if gums can grow back after receding, they would tell you no, they cannot. As nice as it would be to have these soft tissues move back into their original position after treatment, the harsh reality is that they will not. Instead, you and your periodontist will need to devise a plan that includes surgically placing new tissue over the vulnerable areas of your tooth structure.
This is most commonly performed through gum grafting, which involves removing a small bit of tissue from the roof of your mouth and attaching it to the existing gingiva. This will successfully cover the exposed areas of the tooth.
Also, your periodontist may need to perform a bone graft if you are suffering from substantial bone loss as well as osseous surgery to reduce the depth of your gum pockets that can easily trap harmful bacteria and cause infection to spread.
Ways to Keep Your Gums Firmly in Place
While gum recession (in some capacity) can occur as a result of aging, there are things you can do to prevent the need for complex treatment in the future. These include:
Using a soft-bristled toothbrush to gently clean your teeth for two minutes in the morning and at night
Use the correct flossing technique to avoid damaging your soft tissues
Wearing a mouthguard to keep from grinding your teeth at night
Pursuing cessation resources to quit smoking
Avoid using your teeth as tools to open packages
Rinsing with an antimicrobial mouthwash that is designed to combat gum disease
See your dentist every six months for regular checkups and cleanings
Gum recession is just one of the many unfortunate effects of periodontal disease. If you want to ensure the health and longevity of your smile, these helpful tips will keep your gums where they should be for years to come.
About the Practice
Want to improve your oral health? At Handsman & Haddad Periodontics, P.C., we are specialists in periodontal care. By administering the proper treatment, we can not only help you regain your gum health, but we can also offer tips and techniques on ways to prevent it from happening in the first place. We also offer our patients valuable educational resources and unique dental hacks to help maintain healthier teeth and gums at home. To learn more about what we can do for you and how to keep your smile looking and feeling its best, contact us at (508) 753-5444.