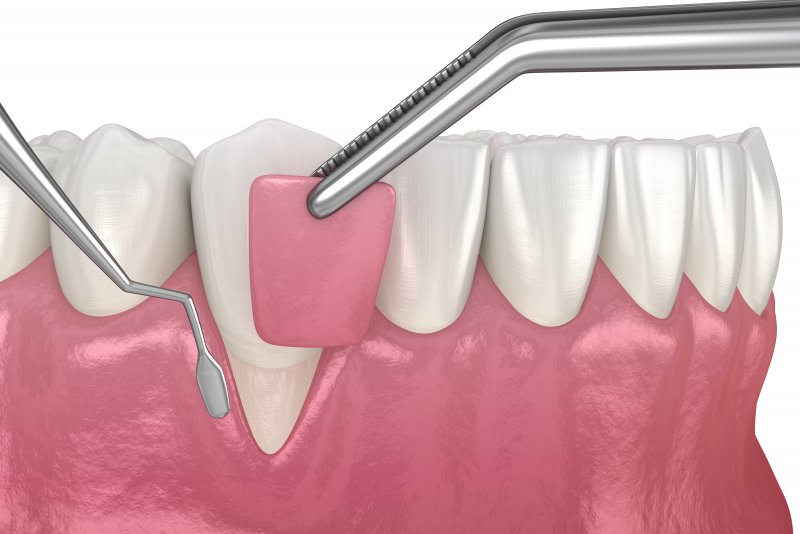 Do you have receding gums because of your periodontal disease? Having teeth that appear longer than usual and living with increased sensitivity because of your exposed tooth structures can be embarrassing and painful. Fortunately, there is a solution that can minimize your symptoms and allow for a more beautiful smile – a gum graft. But will this procedure hurt? How long will it take to recover? A periodontist explains what you can expect when preparing for this type of oral surgery and why there's no reason to worry.
What is a Gum Graft?
A gum graft is an oral procedure that is designed to help patients suffering from receding gums that commonly occur when an individual is dealing with periodontal disease, bruxism (teeth grinding), and bite misalignment. To cover exposed tooth structures and minimize the symptoms caused by receding gums, a gum graft can be performed by a trusted and skilled periodontist as part of a patient's gum disease therapy. By removing a small piece of tissue from another area of the mouth and surgically placing it over the exposed or recessed areas, it allows for a more aesthetically pleasing appearance and healthier smile.
---
Request an Appointment
---
How Does the Procedure Work?
The process of receiving a gum graft requires that you receive local anesthesia to numb the areas of your mouth that will undergo surgery. If necessary, you may also be eligible to receive sedation dentistry to help keep you calm throughout the procedure. Removing a small portion of tissue from the roof of your mouth or another location, your periodontist in Worcester will carefully attach it to the appropriate area.
Gauze will be placed over the surgical area to allow for proper healing in the days and weeks following your procedure.
Will it Hurt?
Throughout your surgery, you can expect to feel no pain whatsoever, as the anesthesia will ensure you are thoroughly numb. However, once you are home and the effects have worn off, it is not uncommon to experience some soreness and discomfort. Fortunately, there are ways to manage the pain and avoid complications.
A few ways you can ensure a swift and successful recovery include:
Avoiding brushing and rinsing your mouth the day of your surgery
After the first 24 hours, use a mouth rinse to swish around to kill off any bad bacteria
Avoiding hot foods and beverages for the first few days. Instead, eat soft foods for the first week.
Keeping your tongue away from the surgical area
Avoiding strenuous activity for about a week
Taking any prescribed medications as instructed by your periodontist.
A gum graft can be an extraordinarily beneficial procedure, but you'll need to take the appropriate steps to ensure you heal properly. After a short time, you'll be able to enjoy a healthier, more beautiful smile.
About the Authors
At Handsman & Haddad Periodontics, P.C., we are specialists in periodontal care. Dr. David Handsman and Dr. Todd Jenny are trained experts who can help improve your soft oral tissues and offer preventive tips to avoid potential dangers that can come with worsening gum health. If you suspect you may be suffering from receding gums and need a gum graft or other similar procedure to restore your oral health, contact us at (508) 753-5444.