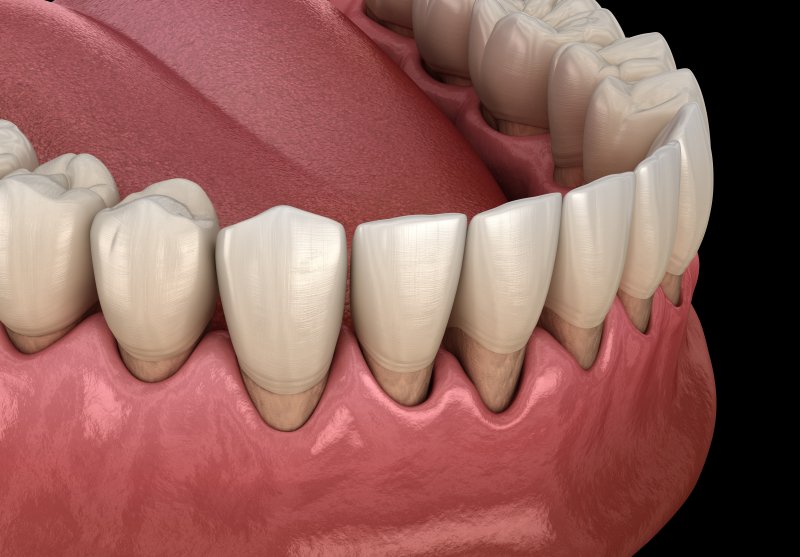 One of the most common symptoms of periodontal disease is gum recession. As soft oral tissues slowly pull back, your teeth may appear much longer than before. As a result, this can cause bacteria and food particles to become more easily trapped and increase your vulnerability for more serious oral health issues. Fortunately, your dentist can administer gum disease therapy in the form of a gum graft. Read on to learn how this unique and simple procedure can restore your oral tissues and provide a more aesthetically pleasing appearance.
Why Do Gums Recede?
When suffering from periodontal disease, you may notice that your gums begin to recede over time. As the plaque and bacteria continue to attack the soft tissues and bone, your gums will begin to pull away from your teeth. Although the process is gradual, it will eventually expose more of your tooth root and continue to damage the bone. If left untreated, you will not only have an uneven gum line, but you'll also likely experience tooth sensitivity and the potential for bone and tooth loss.
What is a Gum Graft?
As a form of gum recession treatment, your periodontist will likely recommend a gum graft to treat this particular problem. Although the procedure might sound a bit unnerving, the truth is that it is simple and easy to perform. The process includes removing a small amount of tissue from another area of your mouth (i.e., the roof of your mouth) and placing it over the exposed area of your tooth. This will stop any further gum recession and better protect your tooth and its roots from future problems.
Depending on the severity of your gum recession, it can take anywhere from 45 minutes to one hour to complete the procedure. If more of your tooth root is exposed, it can take a bit longer. You will receive local anesthesia to ensure that you remain pain-free throughout the grafting process. Once the effects wear off, you may experience some slight discomfort, but an over-the-counter pain reliever can help.
Why It's Important to Choose Gum Grafting in Worcester
Periodontal disease is common but extremely harmful to your oral and overall health. Allowing it to progress and further harm your teeth, bone, and gums will only result in more timely and costly treatment to repair your smile and treat the many complications and conditions that can develop throughout your body. Should an infection or inflammation enter your bloodstream, you can be faced with the potential for diabetes, cardiovascular disease, neurological conditions (i.e., Alzheimer's, Dementia), and other serious issues.
By choosing to repair your smile with a gum graft, you can take back control of your oral health and not only embrace a more beautiful aesthetic, but you'll also be able to keep your natural, healthy teeth longer.
About the Authors
At Handsman & Haddad Periodontics, P.C., we are specialists in periodontal care. Dr. David Handsman and Dr. Todd Jenny are trained experts who can help improve your soft oral tissues and offer preventive tips to avoid potential dangers that can come with worsening gum health. If you discover you need a gum graft or some form of gum recession treatment in Worcester, contact us at (508) 753-5444 to schedule an appointment.