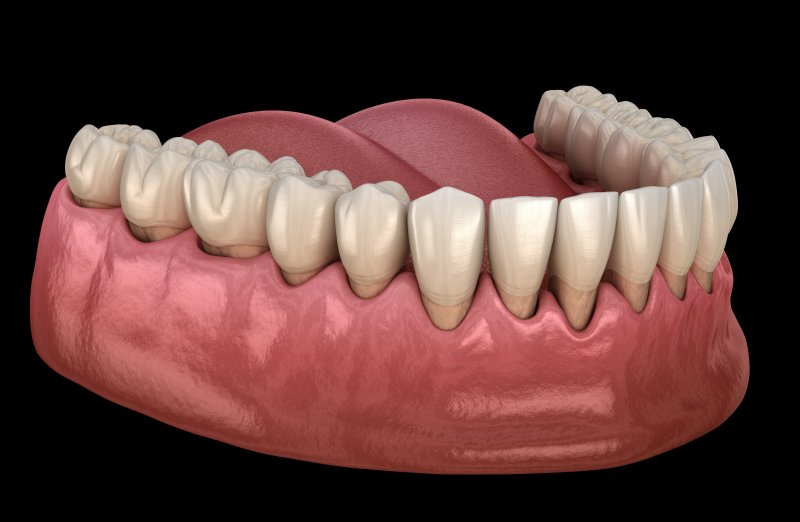 When it comes to gum disease, your teeth and soft oral tissues are not the only areas negatively impacted. Believe it or not, the symptoms that occur and the breakdown of the bone can change the way you look in the mirror. When you understand how the disease progresses and eventually leads to additional tooth loss, it's easy to see why gum disease and facial shape are closely connected. Read on to find out how it happens and what you can do to stop it.
The Progression of Gum Disease
In its early stages (gingivitis), you may discover your gums bleed when brushing or flossing. You might also notice some redness and inflammation, causing your soft tissues to feel tender. With routine professional cleanings and optimal at-home oral hygiene practices, you can reverse these symptoms and restore your gum health. However, if left untreated, the problem will only worsen.
Periodontitis is when bacteria attack your teeth and bone, creating deep pockets that easily trap food particles and other debris. As plaque and tartar spread beneath the gum line, they destroy the jawbone and cause teeth to loosen and eventually fall out. While certain treatments are available (i.e., antibiotic therapy, scaling and root planing), this state of gum disease cannot be reversed.
How Gum Disease Changes Facial Shape
If you consider how gum disease causes tooth loss, you will see that as the jawbone breaks down, it holds less and less of its shape. As a result, this negatively impacts the aesthetics of your smile. When looking at someone without teeth, their lips are often drawn inward, causing them to appear much older than they are.
From the facial angle and chin position to your bite and jowls, your facial shape will be drastically altered. Tissues begin to sag, the chin shifts forward, and even your nose can appear larger because of the vertical lines that begin to appear on your face.
By replacing these missing teeth with dental implants, you can continue to stimulate the jawbone and maintain a healthier, younger-looking appearance.
Ways to Prevent Gum Disease and Avoid Facial Collapse
It is believed those who are living with bone loss can expect to look at least 10 years older than their actual age. If this doesn't sound like something you want to experience, you'll need to stay on top of your oral hygiene routine and minimizing your risk for gum disease. You can do this by:
Regularly brushing your teeth twice a day for two minutes, flossing at least once a day, and rinsing with a mouthwash designed to combat gum disease.
Continuing to see your dentist for regular dental checkups and cleanings.
Inquiring about gum disease treatment in Worcester the moment you begin to notice your gums appear swollen, red, or begin to bleed.
Avoiding tobacco products and smoking.
Eating healthy foods that encourage proper gum health and stronger tooth enamel.
Millions of people in the U.S. are already living with some form of gum disease. Don't become a statistic. Instead, take proper care of your teeth and gums and prepare to enjoy a more youthful appearance for years to come.
About the Practice
Want to improve your oral health? At Handsman & Haddad Periodontics, P.C., we are specialists in periodontal care. By administering the proper treatment, we can not only help you regain your gum health, but we can also offer tips and techniques on ways to prevent it from happening in the first place. We also offer our patients valuable educational resources and unique dental hacks to help maintain healthier teeth and gums at home. To learn more about what we can do for you and how to keep your smile looking and feeling its best, contact us at (508) 753-5444.