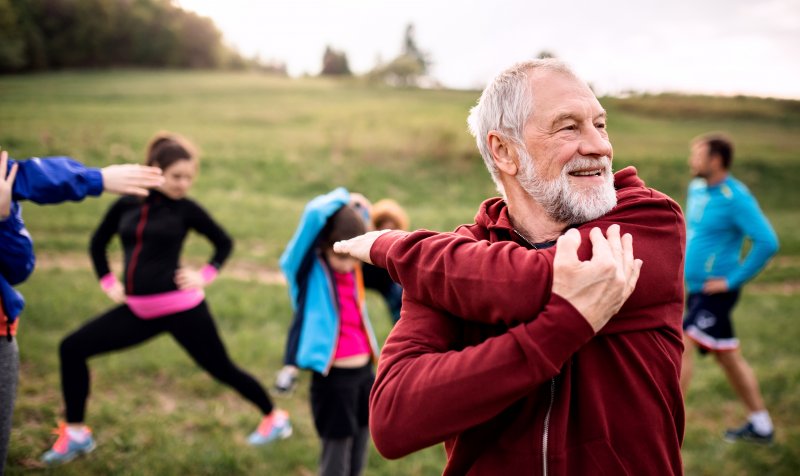 Are you wondering if there are things you can do to improve your oral health and minimize your risk for serious dental problems? The older you get, the more difficult it becomes to stave off any decay or diseases, but what you may not realize is that gum disease and exercise go hand-in-hand. How? Discover how moving your body and raising your heart rate can minimize your risk of developing an infection in your soft oral tissues.
What is Gum Disease?
Gum disease is an infection that develops when bacteria attack the soft oral tissues that surround teeth. Currently, there are millions of adults in the United States living with this dental problem and many do not even realize they are exhibiting symptoms. Some of which include:
Redness and inflamed gums
Bleeding gums
Bad breath
Difficulty chewing
Also referred to as periodontal disease, it progresses in stages: gingivitis, periodontitis, and advanced periodontitis. During its early stage, the symptoms can be reversed with regular oral hygiene and cleanings; however, if allowed to worsen, only treatment from a skilled periodontist in Worcester will work.
How Does It Impact Your Mouth and Body?
Once gum disease reaches a point where regular at-home brushing and flossing is no longer effective at removing plaque and bacteria, it is necessary to seek professional help. Without it, the infection and inflammation can spread, resulting in gum pocket formations that can easily trap bacteria. If left alone, it will damage teeth and cause them to become loose while also breaking down bone.
But that is not all. The infection can enter the bloodstream and travel to various areas throughout a person's body. The brain, heart, lungs, kidneys, gut, and other organs are susceptible to the effects of gum disease, resulting in costly treatments to address these problems.
Heart attack, stroke, diabetes, dementia, Alzheimer's, and respiratory illness are just a few of the many overall health issues that can develop as a result of gum disease.
How Can Exercise Prevent the Effects of Gum Disease?
Apart from good oral hygiene habits at home as well as regular dental checkups and cleanings, patients can avoid the problems listed above by also incorporating plenty of exercise into their daily routines. According to a study performed by Colgate, it is believed that individuals who do not smoke and who exercised regularly are more than 50% less likely to develop periodontal disease as opposed to those who also do not smoke but maintain a static lifestyle.
How is this possible?
The answer is that the body does not experience as much inflammation when undergoing physical activity. By regularly exercising, the body works to stay regulated, and an improvement in the digestive system means a lower risk of possible infection within the body's tissues. Also, when combined with a healthy diet, the nutrient-rich foods a person eats help to improve both overall and dental health.
Whether it's getting up early or waiting until the evening hours, don't bypass the opportunity to work your muscles and get your blood pumping. Regular exercise will not only benefit your waistline, but it will also improve your smile.
About the Practice
At Handsman & Haddad Periodontics, P.C., we are specialists in periodontal care. Not only can Dr. David Handsman and Dr. Todd Jenny implement available treatments to combat gum disease, but they can also help you minimize your risk through optimal oral hygiene practices and regular dental care. Contact us at (508) 753-5444 to schedule an appointment.