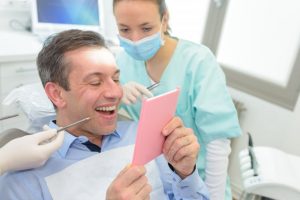 If you are missing teeth—whether one or several—then you may have noticed activities that you used to take for granted aren't so easy anymore. Things like eating your favorites foods, having a conversation and smiling with confidence might become challenging with tooth loss. But with dental implants in Worcester, you'll be able to do all of these again and more. So go ahead, smile, because your quality of life is about to get a lot better!
Do Dental Implants Really Improve Quality of Life?
Yes, they do and there's research to prove it. Dr. Jocelyne S. Feine, professor of dentistry at McGill University in Montreal studied patients who had dental implants. Her findings show that patients with dental implants are able to eat better, have improved health and simply enjoy life more than those wearing dentures.
What is a Dental Implant?
In basic terms a dental implant is a prosthetic that substitutes for both the root and crown of a missing tooth. Each implant is comprised of three parts: the implant that is surgically embedded in your jawbone, the abutment that connects the implant to your tooth restoration, and the porcelain crown, bridge or denture that replaces the visible portion of a tooth.
Benefits of Dental Implants
A fixed bridge or partial denture only rests on top of your gums. Dental implants, on the other hand, are embedded in the bone beneath your gums. This offers two real advantages.
First, the implant serves to anchor your new tooth in much that same way a root does. The dental implant and surrounding bone tissue bond in a process called osseointegration. As you heal from implant surgery, the post—made of the biocompatible metal titanium—and your jawbone fuse together, or integrate. After some months, they create a secure foundation for your eventual tooth restoration, which is usually a porcelain crown for a single missing tooth, a bridge for several teeth or an implant-retained denture for an entire arch.
Secondly, your new dental implant stimulates healthy new bone tissue growth. Without a root, your jaw begins to shrink. This is a common consequence when one or more teeth have been missing for a long time. The same can happen with a partial or full denture that rests on your gums; the denture may fill out your cheeks, but bone tissue is still missing the important presence of a tooth root. This problem is eliminated with dental implants.
Considering all that dental implants do, is it any wonder they can improve quality of life? Want to find out what they can do for you? Contact a periodontist in Worcester to schedule a consultation.
Meet the Doctors
Dr. Handsman and Dr. Jenny have restored many smiles with dental implants in Worcester. Take a look at their Before and After Gallery to see the exceptional quality of their work.