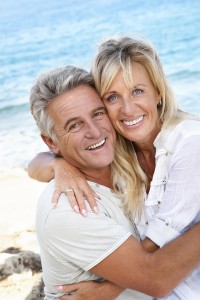 When you look at your smile, you don't only see teeth. There is a supporting cast. That beautiful smile in the mirror needs healthy teeth as well as strong gums and jawbone to hold your teeth in place. If you lose a tooth because of decay, gum disease or tooth extraction, then bone tissue begins to recede. A tooth replacement—whether you choose dental implants in Worcester, a partial or a denture—needs a certain amount of jawbone for support. That's why bone graft surgery may be necessary. Read on to learn more about this procedure.
What Makes a Dental Implant Work?
The key to success for a dental implant can be summed up in a word: osseointegration. This is the process whereby the implant and surrounding tissue fuse together over the months of healing. However, if you don't have enough healthy bone, then osseointegration could be unsuccessful. X-rays will show whether or not you have sufficient bone volume at the site of a missing tooth. If not, then a bone graft procedure may be necessary.
The Bone Graft Process
To add more bone volume to the spot where your jaw cannot securely anchor a dental implant your periodontist may recommend bone graft. During this procedure, healthy bone tissue is harvested from another part of your own body—usually the mouth, hip or shin— and is transplanted to the weakened site. Replacement bone can also come from a cadaver, a cow or artificial bone.
If you are to have a dental implant placed in the rear upper jaw, then the dentist may perform a special type of bone graft called a sinus lift. In this situation, the sinus is opened and additional bone tissue is placed to secure your implants.
Some patients can have bone graft surgery on the same day that their implanted posts are positioned in the jaw. However, if there has been too much bone loss, then your jaw may need time to heal before implant surgery.Once your jaw and gums have healed, the dental implants can be placed and you will once again be able to enjoy a healthy and beautiful smile.
Don't let weakened bone tissue keep you from the smile you deserve. Call your periodontist today.
Meet the Doctors
Dr. Handsman and Dr. Jenny are periodontists in Worcester. Both are trained and skilled in the placement of dental implants as well as bone graft surgery to support implants. Call to schedule an appointment today.