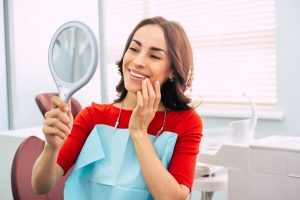 Dental implants in Worcester are one of the most popular and superior methods of tooth replacement. Offering greater stability and a longer-lasting restoration, patients are enjoying their new smiles because of the increased confidence and improved appearance. While the process of obtaining them is lengthy, the results speak for themselves. But how should you care for them? The investment you've made is great, so you want your new fixtures to last as long as possible, right? Here are 5 ways you can properly care for your implants and guarantee a healthier smile.
Brushing Your Teeth and Flossing
Although your new implants cannot decay, the teeth sitting nearby certainly can. It's important to maintain a good oral hygiene routine, which means brushing your teeth twice a day for a full two minutes and flossing at least once a day. What does this do? Brushing helps to remove any bacteria or food particles, and yes, it does take two whole minutes to effectively remove it. Flossing removes the same items from between the teeth.
Regular brushing and flossing can prevent tooth decay and gum disease, both of which can lead to tooth loss if left untreated.
Visit Your Dentist
It is important to keep your regularly scheduled six-month checkups and cleanings with your dentist for a few reasons:
Ensure no problems are developing (tooth decay, gum disease, oral cancer, etc.)
Provide your teeth with a thorough cleaning
Check your implants
Your dentist will want to evaluate and examine your dental implants to make sure they are in good shape and holding up well. If he notices any possible areas of concern, they can be addressed quickly.
Kick the Habit if You Smoke
Smoking is the number one way to ensure dental implant failure. Why? Because smoking weakens your immune system, making it harder for your body to heal. This also negatively impacts the osseointegration process, which requires the implant to fuse to the bone in order for the implant to be secure.
If you haven't kicked the habit before getting your implants, make sure that you do once you receive them. It'll not only keep your mouth and body healthier, but you'll be less likely to develop stains on your teeth, which will cause your implants to look different than the rest of your smile.
Avoid Hard Foods
While you don't have to completely reevaluate your food options when getting dental implants, it is important that you try to avoid any hard foods. Not only is this a good tip for people with implants, but it's beneficial even to those who have all their natural teeth. Hard, sticky foods can be damaging to your teeth, and after investing the money you have into your dental implants, you certainly don't want to chip or break one of your restorations.
Limit Your Sugar Intake
Sugar is an enemy to your oral health. It gives bacteria exactly what it needs to burrow and create holes in your teeth, which ultimately turn into cavities. As we mentioned earlier, your dental implants cannot decay, but your teeth on either side of it can so think twice before guzzling down that sugary sports drink or biting into that gooey candy bar.
Your decision to receive dental implant is an excellent one, but make sure you take the necessary steps to take care of these new tooth replacements. Years from now, you'll be glad you did.
About the Practice
At Handsman & Haddad Periodontics, P.C., we are specialists in periodontal care. Dr. David Handsman and Dr. Todd Jenny want all patients to feel welcome and comfortable when entering through our doors. As highly trained professionals, we offer various dental implant and oral medicine services, as well as broad-based treatment of gum disease. Not only do we take pride in assessing the individual needs of each patient, but we also provide thorough and transparent information so that you can feel confident when it comes to making decisions about your oral health. To learn more, contact us at (508) 753-5444.