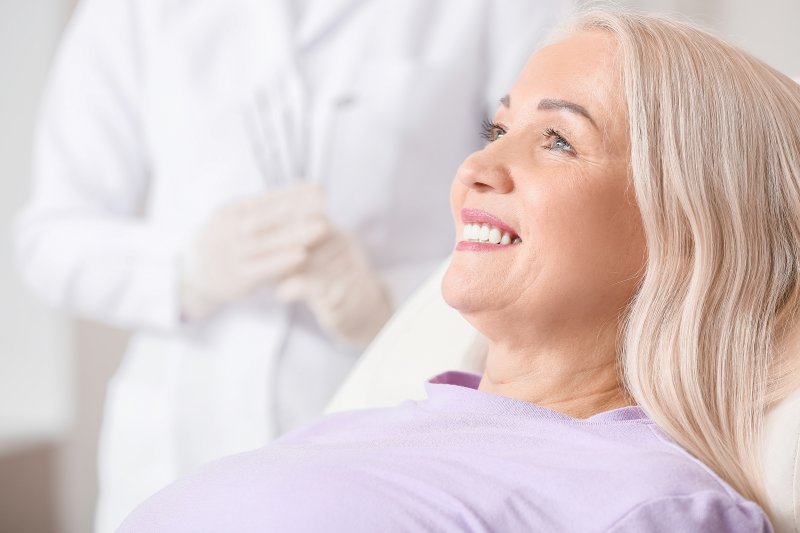 If you're concerned that you are "too old" to receive dental implants, you'll be pleased to know that when it comes to these prosthetics, age is just a number. Although there are considerations that must be taken into account by a trusted periodontist, most individuals who are in their senior years can benefit from these permanent replacement teeth. Find out why dental implants are a great option for more mature adults.
What is Required to Receive Dental Implants?
One component that patients often refer to when thinking about dental implants is the notion of a dense jawbone. Many individuals who desire these prosthetics worry that their bones will not be dense enough to adequately support their new teeth.
Fortunately, there are preliminary procedures that can handle this type of situation. With bone grafting, a periodontist can integrate grafting materials from the roof of your mouth or a donor and place them in with the existing bone. Over time, the two will fuse to create a denser, stronger jawbone – a perfect base for long-lasting implants.
Another factor that must be considered is your overall health. Many older adults struggle with various health conditions that can put them at a higher risk of dental implant failure. However, with proper maintenance and regular checkups by a trusted physician, it is possible to move forward with treatment even while living with diabetes, heart disease, or an autoimmune disorder.
Why Are Dental Implants Good for Older Adults?
Although there are things that a periodontist must keep in mind when treating an older adult with dental implants, they are the preferred choice simply because of their natural appearance and longevity.
These permanent prosthetics offer a level of confidence that cannot be achieved with dentures or dental bridges. Instead of worrying about teeth slipping or falling out, you can rest easier knowing that your smile will remain fully intact throughout your meal.
Also, older adults better understand the importance of a healthy, functional smile, so they are more apt to take better care of their new teeth. Of course, this may mean giving up unhealthy habits so that the potential for implant failure reduces.
Older adults are also more likely to have additional funds to readily pay for this type of treatment. It is no surprise that these prosthetics can be costly, but seniors who are now retired or who are preparing to leave the workforce may have greater savings built up so that out-of-pocket expenses are easier to handle.
Don't let your age fool you. Dental implants are a great way to recapture a full, complete smile again, no matter how old you might be.
About the Practice
At Handsman & Haddad Periodontics, P.C., we are specialists in periodontal care. Not only can our team recommend viable treatment options to replace missing teeth, but they can give you back your appearance and confidence with the help of dental implants. With the help of advanced technology and equipment, they can produce life-changing outcomes that will leave you with a fully functional smile. Contact us at (508) 753-5444 to request an appointment if you are suffering from tooth loss and want to learn more about dental implants.