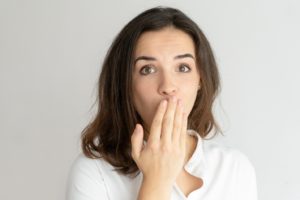 Dental implants are the best way to fill in the gaps left by missing teeth. They are sturdy, natural-looking, and long-lasting. They also boast an astonishing success rate of more than 95%. However, in rare cases, things can go wrong. Why might a dental implant feel loose? What should you do if you ever suspect that something is amiss with one of your implants? Let's talk about the answers to those important questions.
Reasons for Loose Dental Implants
A loose dental implant may occur for a number of reasons, including:
The restoration is loose. In some cases, the implant itself is perfectly fine. The crown on top of it, however, might be damaged or insecurely attached.
There is an infection. When bacteria attack the tissue around a dental implant, a condition called peri-implantitis can develop. Eventually, peri-implantitis can cause so much damage to the bone surrounding the implant that the implant no longer has a sturdy base of support. It therefore begins to feel loose.
Failed osseointegration. Osseointegration is the biological process that allows the jawbone to bond with dental implants. In rare cases, it may fail, either due to a patient's pre-existing medical conditions or other reasons.
What to Do About a Loose Dental Implant
As soon as you feel that one of your implants is loose, call a dental implant expert to schedule an appointment. They will examine your mouth for signs of infection and take some images (perhaps using a CBCT machine) to get a look at the bone around the implant.
Once your dentist determines why the implant is loose, they can recommend an appropriate treatment. You might need something as simple as a new crown. In other cases, though, such as if there is a severe infection, you might need surgical intervention. It might be necessary to remove the implant altogether and perform a bone graft. Later, after a recovery period and some antibiotic therapy, you might be able to get a new implant.
Keeping Your Dental Implants Where They Belong
You can reduce the risk that you will develop a loose dental implant by doing the following:
Stick to a thorough daily oral hygiene routine.
Visit your general dentist for a checkup every six months.
Do not smoke or chew tobacco.
Always wear a mouthguard when playing sports.
Watch out for signs of bruxism (teeth grinding and clenching), and wear a nightguard to prevent it if necessary.
Do your best to manage your overall health. For example, if you are diabetic, you should strive to keep your condition under control.
Most patients never have to worry about a loose dental implant, but if this issue ever happens to you, you should take prompt action to get your smile's health back on track.
Meet the Practice
Drs. Handsman, Haddad, and Jenny are proud to serve as periodontists for the Worcester, MA community. They offer a range of specialized services, including dental implant placement, bone grafting, and more. To learn more about our practice and how we may be able to serve you, contact us at 508-753-5444.