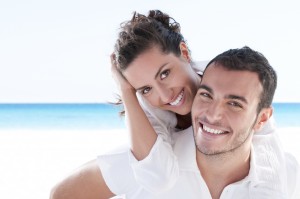 Your smile is made up of more than teeth. When anyone smiles, you see teeth, lips and gum tissue, which all need to be in correct proportion. If you have an uneven smile line or what's often called a gummy smile, then there is a solution. With crown lengthening, Worcester periodontists Dr. Handsman and Dr. Haddad can enhance the appearance of your smile. Crown lengthening is the name of a surgical procedure our periodontists use to remove or reposition gum tissue.
Crown Lengthening for an Uneven Smile
An uneven smile happens when the gum tissue that arches over one of your upper teeth is higher or lower than the arches over adjacent teeth. The result is a gum line that rises and falls over your teeth. Even with straight teeth, an uneven smile can detract from your overall facial appearance. Worcester periodontists Dr. Handsman or Dr. Haddad can surgically adjust the tissue to create a more pleasing and flattering appearance.
Crown Lengthening for a Gummy Smile
The other type of cosmetic imperfection that crown lengthening corrects is a gummy smile, or one in which a person has excess gum tissue arching over their. Sometimes the gum tissue can simply be removed to reveal additional tooth structure that creates a more natural looking smile. In other cases, a dental crown will need to be mounted over the tooth in order to make the gum line look more pleasing.
Repairing a Broken Tooth and Crown Lengthening
Unfortunately, dental accidents happen. When one involves a tooth that is broken close to the gum line, then crown lengthening may be part of the process of restoring the natural appearance of that tooth.
When a tooth breaks at or below the gum, removal is often recommended. However, in some instances crown lengthening can be performed to expose more of the tooth structure so that a dental crown can be attached.
Moreover, crown lengthening can play an important role in helping gum tissue attach to a crown. When a crown is newly mounted to a tooth, the surrounding gum tissue needs some time to attach itself closely to the crown. This helps to prevent gum disease by blocking bacteria that might otherwise have access below the gum line. With gum tissue wrapped securely around the crown, bacteria are blocked.
For Crown Lengthening in Worcester, Contact Our Office Today
If you look in the mirror and see an uneven or gummy smile, call the office of Handsman & Haddad, Worcester periodontists who perform crown lengthening.