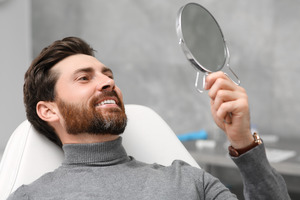 When you have a gummy smile, it's often possible to improve your appearance with a crown lengthening procedure. But will the treatment fit into your budget? It's essential to learn as much as possible about the costs involved before you make any decisions. Your periodontist is here to give you a quick look at crown lengthening and the factors that could influence the amount you end up paying for it.
What is Crown Lengthening?
Crown lengthening is a simple surgical procedure where unneeded gum tissue is removed from your mouth. This can help enhance the appearance of your grin in a number of ways. For one thing, if you have any unusually short-looking teeth, crown lengthening can reveal more of the structure that's currently hidden by your soft oral tissues. Furthermore, the procedure can help reshape your gumline so that your smile as a whole appears more balanced.
What Can Affect the Cost of Crown Lengthening?
The price of a crown lengthening treatment can vary significantly from case to case. Your periodontist can give you an estimate of the cost, but first, they'll need to consider the factors involved. Below are some of the variables that will be taken into account:
How Extensive the Procedure Is: Sometimes crown lengthening only needs to be performed around a single tooth. Other procedures may involve the entire gumline. More extensive treatments tend to come at a higher price.
Whether Additional Treatments are Needed: Are you thinking of pursuing other cosmetic services – such as having veneers placed – in addition to crown lengthening? If so, you should be aware of how much you'll need to pay for each treatment that you undergo.
Sedation: Dental sedation doesn't necessarily need to be part of the crown lengthening process, but patients who suffer from dental anxiety may benefit from it. If you're interested in receiving sedation during your procedure, your periodontist will explain what you can expect in terms of cost.
Are There Options for Making Crown Lengthening More Affordable?
It's always worth taking the time to consider your options for managing the cost of crown lengthening. In many cases, breaking up the cost with CareCredit financing is a viable option. CareCredit lets you pick from multiple payment plans based on what works best for your budget; many of these plans have low interest rates or even no interest at all.
Crown lengthening can often be a great solution for a gummy smile. To learn more about this procedure and make sure that it fits into your budget, speak to your periodontist today.
About the Author
Dr. David Handsman earned his Doctor of Dental Medicine at Temple University and received his Masters of Dental Surgery in periodontology at the University of Tennessee. At Handsman & Haddad Periodontics, P.C. in Worcester, he can help his patients improve their grins with crown lengthening. To schedule a consultation with Dr. Handsman, visit his website or call (508) 753-5444.