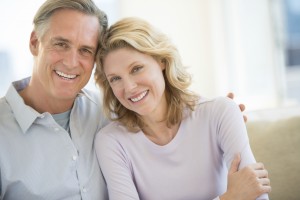 Take a look at your smile in the mirror. What do you see? Most people see teeth and a bit of gum tissue. However, if you see a lot of tooth and very little soft tissue, then you may have gum recession. Receding gums cannot only make your smile less attractive, they can also cause severe tooth sensitivity. In this case, speak to your Worcester periodontist about gum grafting. Dr. Handsman and Dr. Jenny are both experts in performing gum graft surgery so you can smile confidently and eat a varied diet without discomfort.
What is Gum Recession?
As you age, you may notice that your gums begin to recede and more tooth structure including the roots begins to show. Unlike the rest of a tooth, the root is not covered with enamel, a hard and protective substance. Roots are softer and more porous than the rest of the tooth and are, therefore, more prone to decay if exposed. Furthermore, microscopic holes in your roots called tubules become quite sensitive when not covered with gum tissue. As a result, you may feel a sharp pain or even a feeling like an electric shock when you eat something cold, hot, acidic or sweet.
Gum recession can happen for many reasons including:
Teeth grinding and clenching
Gum (periodontal) disease
Genetics
Inadequate oral hygiene
Using a toothbrush with hard bristles
Gum Grafting in Worcester
Dr. Handsman or Dr. Jenny may recommend gum grafting to reduce root sensitivity, stop the threat of decay to the roots of your teeth, prevent more recession or enhance the appearance of your smile. During gum grafting in Worcester, Dr. Handsman or Dr. Jenny will remove a thin section of tissue from your palate—the roof of your mouth—and attach it to the area where your gums have begun to recede. The graft is positioned so that the exposed root of your tooth is covered.
Relax During Gum Graft Surgery
A local anesthetic will be administered before your gum graft procedure begins. However, if you're still feeling anxious, we offer two types of sedation to help calm your nerves. For mild to moderate anxiety, there is oral sedation, and for more serious cases as well as a procedure that will take longer, there is IV sedation.
Contact Our Office Today
If you can see that your gums are receding or if your teeth are feeling sensitive, then call our office and ask about gum grafting. In Worcester, Dr. Handsman and Dr. Jenny will be glad to consult with you.