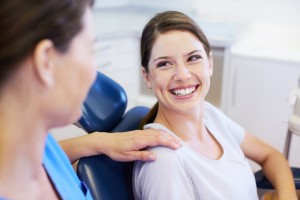 According to the American Academy of Periodontology, a periodontist is "a dentist who specializes in the prevention, diagnosis, and treatment of periodontal disease, and in the placement of dental implants." Without the help of a periodontist, you may be at risk for the damaging effects of gum disease, which at worst can include tooth loss. Read on to learn more about periodontology and periodontists, Worcester.
What is the Difference between a Dentist and a Periodontist?
In addition to four years of dental school, periodontists receive three years of specialized training. Therefore, they are knowledgeable in the latest techniques for diagnosing and treating gum disease, especially in patients who have severe infection or complex medical histories. Their training also teaches them how to place dental implants, perform jaw and gum surgery, and treat cancerous gums.
What Does a Periodontist Do Specifically?
A periodontist focuses on protecting the structures that support your teeth. They ensure that your gums, connective gum tissue and jawbone are all in good shape. If there's a problem, then a periodontist will diagnose the condition and provide the appropriate corrective treatment.
What Problems Does a Periodontist Treat?
Ideally, your gums should be pink and firm. When they aren't in good condition, then this may be a sign of gingivitis or periodontitis, the early and late stages of gum disease, respectively.
A periodontist is uniquely trained in procedures to stop the advance of gum disease and reverse the effects. In the worst-case scenario, advanced periodontitis may require surgery. When advanced, periodontitis can sometimes be an early warning sign of cancer. A periodontist can help protect your overall health by diagnosing and treating these issues early.
In addition to gum disease treatment, a periodontist also works on other parts of the mouth. For example, your teeth are supported by the alveolar process, that portion of the jawbone that immediately surrounds the tooth socket. If the alveolar process deteriorates, then a periodontist can reset it in order to maintain the security of your teeth.
Cementum is another type of tissue. It is a calcified substance that connects your teeth and gums and protects the roots of your teeth. Cementum connects the alveolar bone with teeth using periodontal ligament. A periodontist is able to diagnose and treat issues involving cementum and the periodontal ligament.
What if Gum Disease Causes Tooth Loss?
When a patient loses teeth as a result of gum disease, then a periodontist can offer one of the best options for tooth replacement. A dental implant substitutes for both the root and crown of a missing tooth. A periodontist's additional training, as well as special equipment in the office including Cone Beam Imaging, makes these professionals exceptionally qualified to place implants in the jaw.
Meet the Doctors
Dr. Handsman and Dr. Jenny are both periodontists. In addition to helping patients regain gum health, they also restore smiles with dental implants in Worcester. Call the office today.