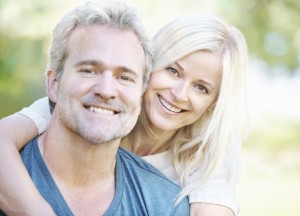 Did you know that gum disease affects nearly 80 percent of American adults? Unfortunately, many of those people don't even realize they have this bacterial infection until the disease has progressed to the point that they are in pain or have loose teeth. The early signs can be hard to recognize so here is a list of signs and symptoms that may mean it's time for you to see your periodontist in Worcester.
How Do I Know if I Need to See My Periodontist in Worcester?
#1. If you notice that your gums are a bit red and swollen, or if they bleed when you brush and floss your teeth, then gum disease may be starting. This is a sign that bacteria are beginning to attack gum tissue above and below the gum line.
#2. You always seem to have bad breath or a sour taste in your mouth. The same bacteria that lead to periodontal disease are also responsible for halitosis (bad breath). Even after brushing, you may still have bad breath shortly after.
#3. Do some of your teeth look longer than usual? This can be a sign that your gums are receding. There may also be deep pockets developing between your teeth and gums as the tissue pulls further and further away.
#4. Some of your teeth start to feel loose or your notice that teeth don't meet together properly when you bite down.
#5. If your teeth hurt when you eat, then this may also be a sign that gum disease is advancing. Once the infection reaches the roots of your teeth, biting down can cause pressure that is painful to the tooth and surrounding gum tissue.
#6. If your gums have receded, then your teeth may be quite sensitive to foods and beverages that are either hot or cold. This is because more of the roots are exposed.
#7. Did your mom or dad have gum disease? How about a grandparent or sibling? Gum disease does tend to run in families.
#8. People who smoke are much more prone to gum disease. Smoking affects circulation so your gum tissue doesn't receive as much oxygen or nutrients that otherwise healthy gum tissue would. When this happens, your gums can't fight disease well.
#9. People who have diabetes are also more at risk for gum disease.
Contact Your Periodontist in Worcester
If you fall in to any of the above categories then you would be wise to schedule an appointment with a periodontist that can check the health of your gums.
Meet the Doctors
Dr. Handsman and Dr. Jenny are periodontists in Worcester. Both are trained and skilled in the diagnosis and treatment of periodontal disease through non-surgical and surgical treatments such as dental implants. Call to schedule an appointment today.