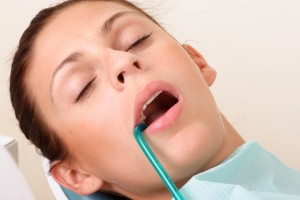 Dr. Handsman and Dr. Jenny are skilled and experienced periodontists, so they are quite comfortable with all of the procedures performed in the office. However, they understand that you may not be so comfortable. Several of the procedures here are considered oral surgery. Therefore, some degree of anxiety or nervousness is to be expected. If, on the other hand, you're so nervous that you simply cannot even think about your procedure, then we offer two types of sedation dentistry to help you overcome your anxiety and have the treatment you need. Speak to your periodontist in Worcester about oral sedation and IV sedation. Together you'll decide which is best for you.
Oral Sedation
If your dental anxiety is the kind that tends to kick in as the time for your appointment approaches, then oral sedation may be the ideal solution for you. With this, Dr. Handsman or Dr. Jenny prescribes a mild oral sedation medication that you'll take before coming to our office. In a short while, you'll begin to feel the effects of the medicine as your body relaxes and your mind settles.
With a sedative in your system, you cannot drive yourself to and from your appointment. Therefore, you must be sure to arrange for a relative or close friend to accompany you, remain here during your treatment and return you back home safely.
While your sedation dentist in Worcester works on your smile, you may feel as if you've had a good nap. In fact, you won't be asleep—the team needs to be able to talk to you during treatment. However, the effects of the sedative often make remembering your appointment difficult.
IV Sedation
Intravenous sedation delivers medication directly into your bloodstream for a deeper level of relaxation and unconsciousness. If you have severe anxiety, a sensitive gag reflex or any kind of physical disability that makes sitting for a long stretch of time difficult, then IV sedation can be very helpful. As with oral sedation, you will need a responsible adult to accompany you to your appointment and drive you home.
With IV sedation, your heart rate, blood pressure, pulse and oxygen level is carefully monitored. In addition, a member of the staff will be with you at all times. Nothing is more important to us that your safety and well being. Once your appointment concludes, you'll be given all the time you need to recover in the office before we send you home.
Learn More About Sedation Dentistry from Your Periodontist
If you have any questions about either oral or IV sedation, we'll be glad to help. Contact our office today to schedule an appointment for periodontal services that support a healthy smile.