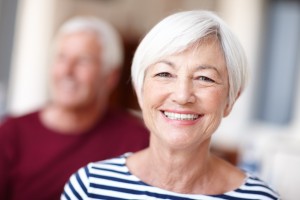 We applaud your decision to have dental implants to replace your missing teeth. There are other options available, such as dentures, partials or a crown and bridge. However, none of these quite matches up to implants that replace both the crown and root of missing teeth. Many dentists now offer dental implants. But for results that look good, feel good and last a long time, you are wise to choose a periodontist to perform your dental implant procedure. The doctors at Handsman & Haddad place dental implants in Worcester with planning and precision, so your new smile will give you years of pleasure.
The Benefits of Seeing a Periodontist for Dental Implants
At Handsman & Haddad, Dr. Handsman and Dr. Jenny both have training in addition to dental school, as well as practical experience, that ensures your dental implants are accurately placed and positioned. Moreover, we take advantage of the latest technology, too. The iCAT Cone Beam Imaging System is a special scanner that provides a three-dimensional view of your teeth, their roots and your jawbone structure. Unlike a two-dimensional image, the view that cone beam technology provides is clearer and more complete. Therefore, your periodontist in Worcester is better able to pinpoint the best location for implants within your jaw. For greater stability, dental implants need to be positioned in such a way that takes the most advantage of bone density. The greater the bone density surrounding a dental implant, the greater the strength of the foundation for your new tooth.
Receiving Dental Implants in Worcester
With comfortable anesthesia and the doctor's gentle touch, having a dental implant placed is really no more difficult than having a cavity filled. Even so, the thought of oral surgery can make some people anxious. If this is you, then please speak to one of our dentists when scheduling your procedure. We offer both oral sedation and IV sedation; the one that is best for you will depend on your level of anxiety as well as the number of dental implants you are supposed to receive.
The procedure itself is really rather straightforward. The dentist makes an incision in your gums and then embeds the implant in bone. Over the next several months, the implanted post and surrounding bone tissue integrate in much the same way that the original tooth root was "rooted" in your jaw. Dr. Handsman or Dr. Jenny will monitor your progress and when they feel healing is completed, you'll return to your general dentist to have the implant finished with a tooth restoration.
Contact Our Office Today
Don't entrust your dental implant placement to just anyone. Choose a periodontist. Call Handsman & Haddad Periodontics in Worcester, MA today to schedule your consultation.