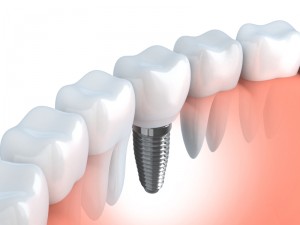 Nothing lasts forever… but there may be an exception to that rule. With good oral hygiene care and regular visits to your dentist, the dental implants that your periodontist uses to restore your smile really can last a lifetime.
Facts and Figures on Dental Implants
Science Daily published a report last March stating:
According to the American Academy of Implant Dentistry (AAID), 15 million Americans have crown or bridge replacements and three million have dental implants — with this latter number rising by 500,000 a year… yet according to a study published in 2005, five to 10 percent of all dental implants fail.
Why Do Dental Implants Fail?
Dental implants fail for a number of reasons. There may be mechanical problems or a weak connection between the implanted post and the surrounding bone. However, the #1 reason for dental implant failure is an infection known as peri-implantitis.
What is Peri-Implantitis?
Peri-implantitis is a bacterial infection that has the potential to destroy the connection between your dental implant and the surrounding gum tissue and the supporting bone structure of your jaw. Advanced cases may necessitate extracting the implant and attached restoration in order to stop tissue loss.
Preventing Peri-Implantitis
The article in Science Daily goes on to report that a team of scientists from the School of Biological Sciences, Peninsula Schools of Medicine and Dentistry and the School of Engineering at the University of Plymouth, are developing and evaluating the effectiveness of a new nanocoating for dental implants that will reduce the risk of peri-implantitis. The treatment is still in the testing phase.
What Can You Do to Extend the Life of Your Dental Implants?
First, make sure you see a well-qualified Worcester periodontist to place your implants. A periodontist has years of training and education as well as experience to ensure the success of your implants.
Secondly, don't make the mistake of thinking that just because your dental implant is not a real tooth it is, therefore, impervious to bacteria. Nothing could be further from the truth.
Plaque—that clear and sticky film that develops in everyone's mouth all day every day—is just as likely to accumulate around the restoration attached to a dental implant as one of your own natural teeth. Therefore, brushing with toothpaste twice a day for two minutes and flossing at least once every day is essential to keeping your dental implants healthy.
In addition, scheduling regular dental checkups is important. Your dentist not only monitors the condition of your natural teeth, but your implants as well.
Take care of your dental implants and they will take care of you!
Meet the Doctors
Dr. Handsman and Dr. Jenny have restored many smiles with dental implants in Worcester. Take a look at their Before and After Gallery to see the exceptional quality of their work.